Enrich with Aloevera, Neem, Tulsi & Rose | Anti-aging, Anti-Wrinkle Gel
Regular price
Rs. 130.00
Sale price
Rs. 117.00
Unit price
per
Sale
Sold out
AXIOM MUKTI GOLD ALOE VERA BLUE GEL BENEFITS:
For Healthy and glowing Skin

Applying some aloe vera gel on your face daily can help cleanse your skin and keep it clear and free of pimples and skin infections.
For Acne, Pimples

Due to the anti-inflammatory effects of aloe vera, the gel may help in inflammatory forms of acne, such as pustules and nodules. Apply the gel with a cotton swab directly to the pimple three times daily.
For Sunburn

Aloe Vera gel has cooling properties and is anti-inflammatory. Hence, it is one of the most natural remedies for sunburn or burnt skin.
After-Shave Roughness

Apply Aloe Vera Skin Gel to soothe roughness after shaving.
For Anti-aging

It Helps to decrease the appearance of wrinkles on the skin.
Useful for Skin Problems.

Helps to Protect from UV rays.
ABOUT THIS ITEM
Aloe vera is widely known for its medicinal properties. Aloe vera plants are also easy to grow and care for at home. Aloe vera, or aloe barbadensis, is a thick plant with small stems. The leaves of the aloe vera plant are filled with a soft, clear gel having medicinal benefits. It nourishes the body from the inside - it is rich in nutrients, helps improve digestion, and even boosts immunity.


HOW DO WE DO IT?
We simply select fresh, green, naturally matured, sun-kissed herbs, Every herb is carefully hand-picked at its peak making sure it's not bruised. We gently wash, crush, and press them with nothing added and taken away as we want them to be as nature offered. Then the pure juice is transferred to the automatic filling machines preventing the sunlight and air from affecting the nutritional quality of our juice. Hence you can enjoy the gift of nature in its original form.


STORAGE:
Store at room temperature (25-30°C). Protect from moisture and light. Keep the container tightly closed. Keep it out of the reach of children.
SHELF LIFE:
18 months from manufacturing
Manufacture & Packed by: Axiom Ayurveda Private Limited
Ward 15, Rampur Sarsehri Road Ambala Cantt,133001.
Expiry Date: 18 months from manufacturing
Share
View full details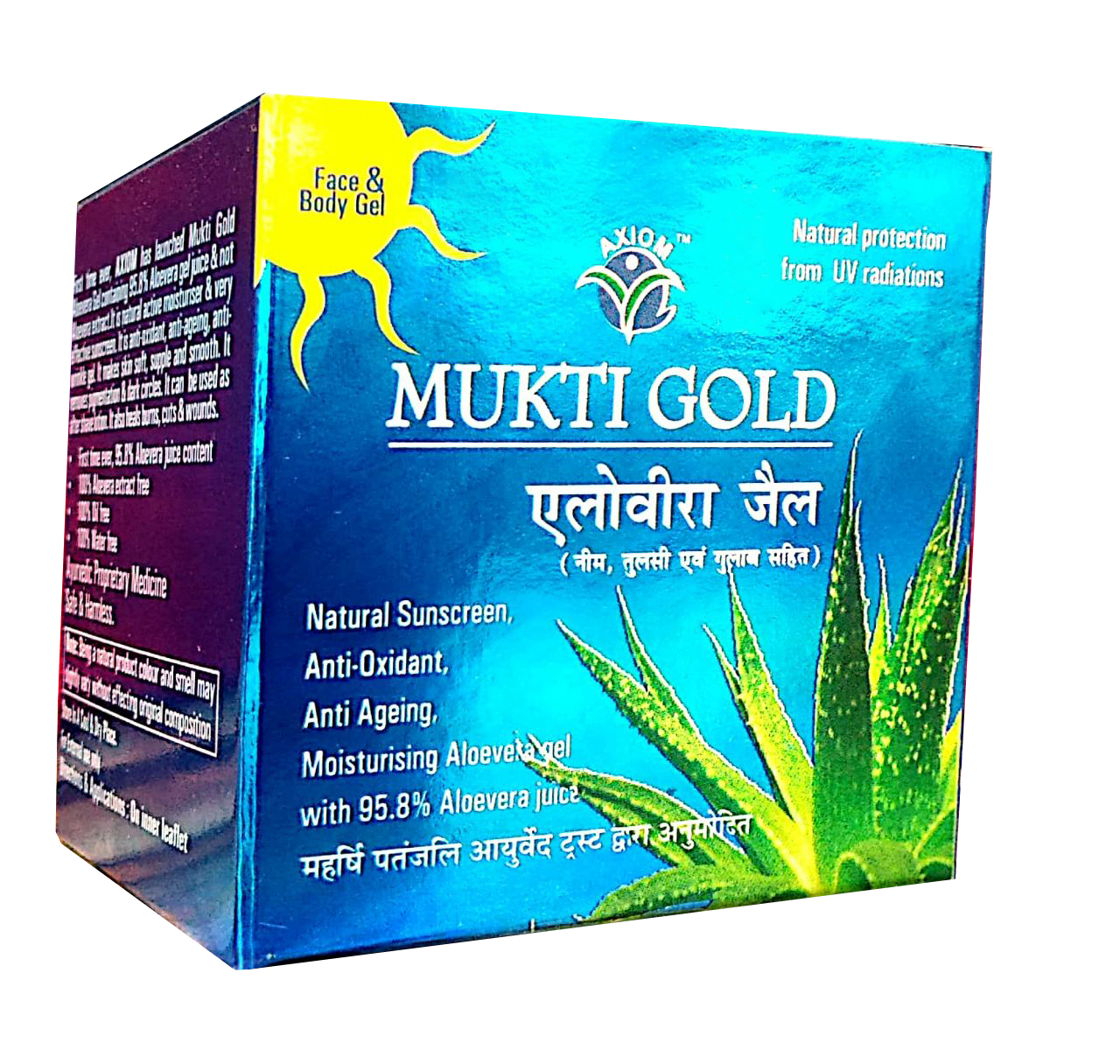 Product's Features
Key Ingredients

Axiom Mukti Gold Aloe vera Blue Gel It contains 95.8% Aloe vera gel juice & not Aloe vera extract. It is a natural active moisturizer and a very effective sunscreen. It is an anti-oxidant, anti-aging, and anti-wrinkle gel. It makes skin soft, supple, and smooth. It removes pigmentation; dark circles. It can be used as an aftershave lotion. It also heals burns, cuts, and wounds.
How To Use

For long-lasting healthy skin benefits, scoop out Mukti gold blue gel from the box, take it on your palm, spread it evenly, and gently massage your face and body to get healthy and beautiful skin. For the best possible results, use it regularly for 4-8 weeks.
Organisation & Certification

Axiom Ayurveda is serving towards humanity from more than 2
decades, Axiom Ayurveda Swaras are 100% Natural WHO GMP, GLP certified.
FAQ

Q1. Is aloe gel good for your face?
Ans: Using aloe vera gel on the face can help soften the skin. Applying a small amount of aloe vera to the face regularly can help treat a variety of skin conditions, including acne, eczema, and rashes.


Q2. Can we apply aloe vera on the face daily?
Ans: Yes, you can apply aloe vera gel daily on the face and even twice a day. It helps moisturize, remove dead skin cells, treat acne, tan.
The package was loose and broken....