Helps In Sugar Problem, High Blood Pressure
Regular price
Rs. 280.00
Sale price
Rs. 252.00
Unit price
per
Sale
Sold out
JEEVAN RAS AXIOM SANDPUSHPA JUICE BENEFITS:
Helpful in controlling Blood sugar level

The smooth and glossy leaves of this plant act as a natural medicine for Type-2 diabetes. Helpful in lowering blood sugar levels.
It is useful in aiding the treatment of cancer

Helps in cancer-fighting effects of this plant are attributed to the presence of vincristine and vinblastine found in it.
It is helpful in Wound Healing

The study supports the efficacy of Sandpuspa for treating and healing wounds.
It controls high blood pressure

The alkaloids isolated from Sandpuspa contain tranquilizing (soothing effect) and hypotensive (lowers blood pressure) properties.
Helpful in Leukemia

Sandpuspa is may use in the treatment of leukemia, and Hodgkin's lymphoma. Its leaves and stems are a source of alkaloids that have anti-tumor and anti-cancer properties.
It is effective against Insect poison

It has the property of detoxification and counteracting poison so it is used to relieve wasp stings.
ABOUT THIS ITEM
Sanpushpa or Catharanthus roseus is an important medicinal plant distributed in many countries. It has attracted increasing attention due to it being shown to possess a range of phytochemicals with various biological activities such as antioxidant, antibacterial, antifungal, antidiabetic, and anticancer properties. It is anti-carcinogen, anti-oxidative, hypoglycaemic, anti-allergic, and antibiotic in nature thus essential for the healthy functioning of the body. 
HOW DO WE DO IT?
We select fresh, green, naturally matured, sun-kissed herbs, Every herb is carefully hand-picked at its peak making sure it's not bruised. We gently wash, crush, and press them with nothing added and taken away as we want them to be as nature offered. Then the pure juice is transferred to the automatic filling machines preventing the sunlight and air from affecting the nutritional quality of our juice. Hence you can enjoy the gift of nature in its original form.
STORAGE:
Store at room temperature (25-30°C). Protect from moisture and light. Keep the container tightly closed. Keep it out of the reach of children.
SHELF LIFE:
18 months from manufacturing.
Manufacture & Packed by:

 
Axiom Ayurveda Private Limited

Ward 15, Rampur Sarsehri Road Ambala Cantt,133001.
Expiry Date: 18 months from manufacturing
Share
View full details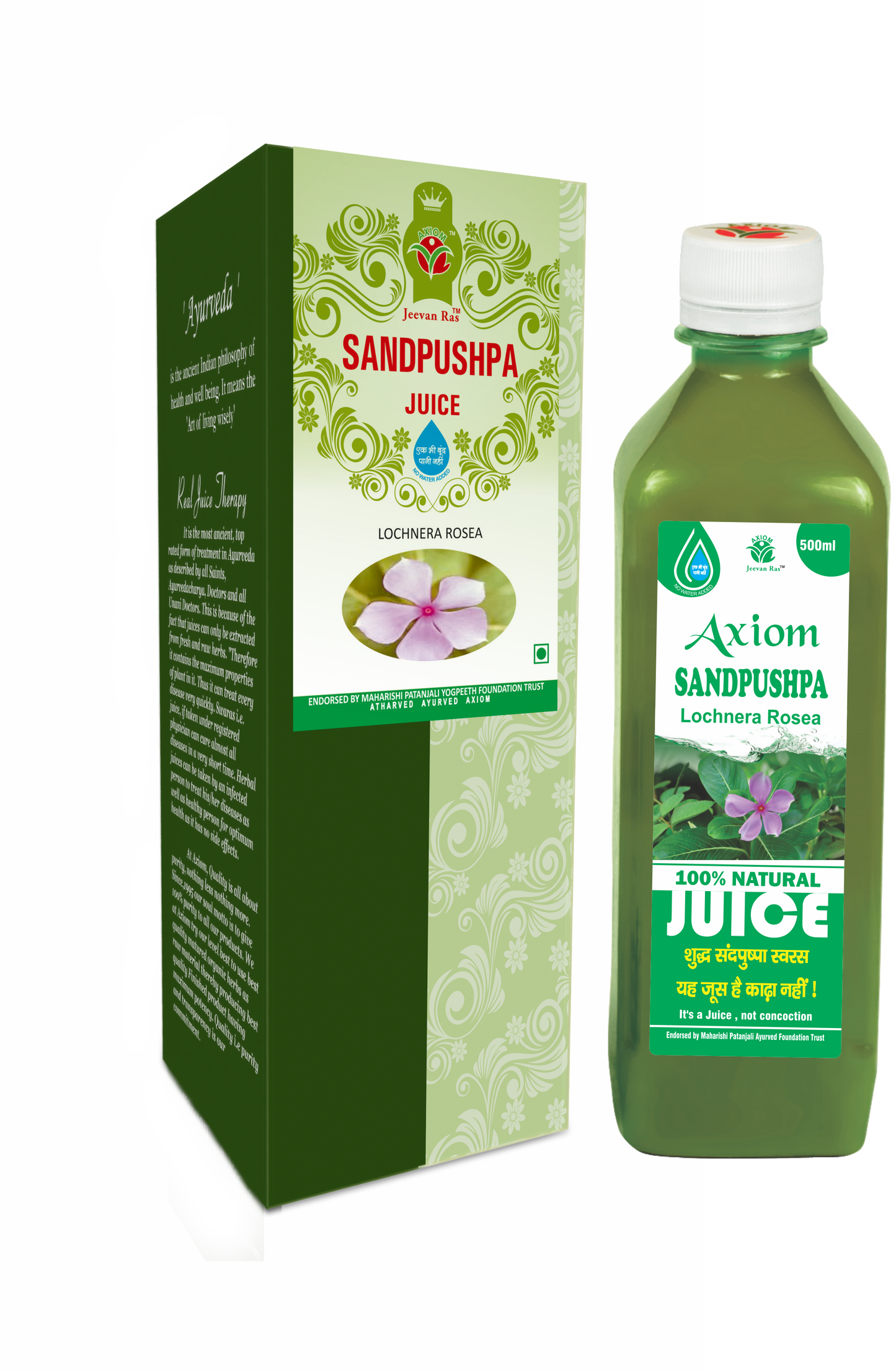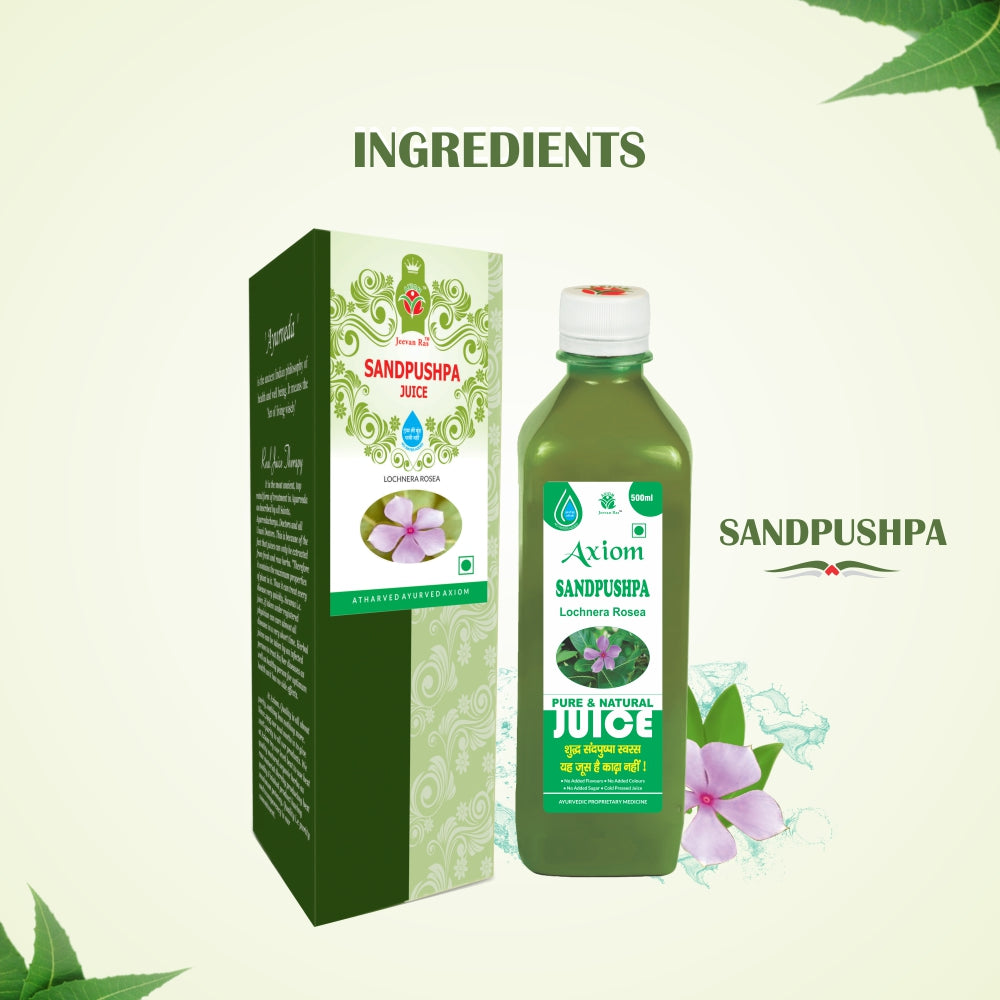 Product's Features
Key Ingredients

Sandpuspa or Catharanthus roseus is an evergreen, herbaceous plant that belongs to the family of Apocynaceae and is grown mostly for its alkaloids. The raw materials are naturally extracted with a cold-pressing technique without the use of any chemical process.
How To Use

Shake the bottle well before use, so you get every dose full of nutrients. For the best possible results take 20-30 ml twice a day, or as directed by the physician.
Organisation & Certification

Axiom Ayurveda is serving towards humanity from more than 2
decades, Axiom Ayurveda Swaras are 100% Natural WHO GMP, GLP certified.
Jeevan Ras Axiom Sandpushpa Juice 500ml
So so
[****] call me for feedback