Prevents Internal & External Bleeding | Useful in Acidity
Regular price
Rs. 250.00
Sale price
Rs. 225.00
Unit price
per
Sale
Sold out
JEEVAN RAS AXIOM JUICE BENEFITS:
Manages Blood sugar level

Durva grass juice has been shown to have hypoglycemic effects, meaning it may help to lower blood sugar levels. This makes it potentially beneficial for people or those at risk of developing the condition.
Aids digestion

Durva grass juice has traditionally been used to treat digestive stomach ailments. It may help to regulate the digestive system, soothe inflammation in the gut, and improve nutrient absorption.
Boosts immunity

Durva grass juice is rich in antioxidants, which help to protect the body against harmful free radicals and prevent damage to cells. It also has immunomodulatory effects that can help to strengthen the immune system.
Purifies blood

Durva grass helps to keep blood alkaline and functions as a natural blood purifier. It is very effective at reducing blood loss from accidents, nosebleeds, and excessive menstrual blood flow. It raises the amount of hemoglobin in the body by increasing the production of red blood cells.
Boosts Heart Health

Durva grass regularly consumed not only lowers blood cholesterol levels but also enhances cardiac health. It not only benefits your heart but also functions as a potent anti-arrhythmic agent.
Helps skin

ailments.



Helps to Remove Free-Radicals/Toxins.
ABOUT THIS ITEM
Axiom Jeevanras Durva grass or doob in Hindi, Bermuda grass is considered a sacred plant in India. While this plant known as Cynodon Dactylon has been used as a traditional herb in Ayurveda. Made from freshly grown Indian Drva grass, it is a natural blood purifier.
HOW DO WE DO IT?
We select fresh, green, naturally matured, sun-kissed herbs, Every herb is carefully hand-picked at its peak making sure it's not bruised. We gently wash, crush, and press them with nothing added and taken away as we want them to be as nature offered. Then the pure juice is transferred to the automatic filling machines preventing the sunlight and air from affecting the nutritional quality of our juice. Hence you can enjoy the gift of nature in its original form.
STORAGE:
Store at room temperature (25-30°C). Protect from moisture and light. Keep the container tightly closed. Keep it out of the reach of children.
SHELF LIFE:
18 months from manufacturing.
Manufacture & Packed by:

 
Axiom Ayurveda Private Limited

Ward 15, Rampur Sarsehri Road Ambala Cantt,133001.
Expiry Date: 18 months from manufacturing
Share
View full details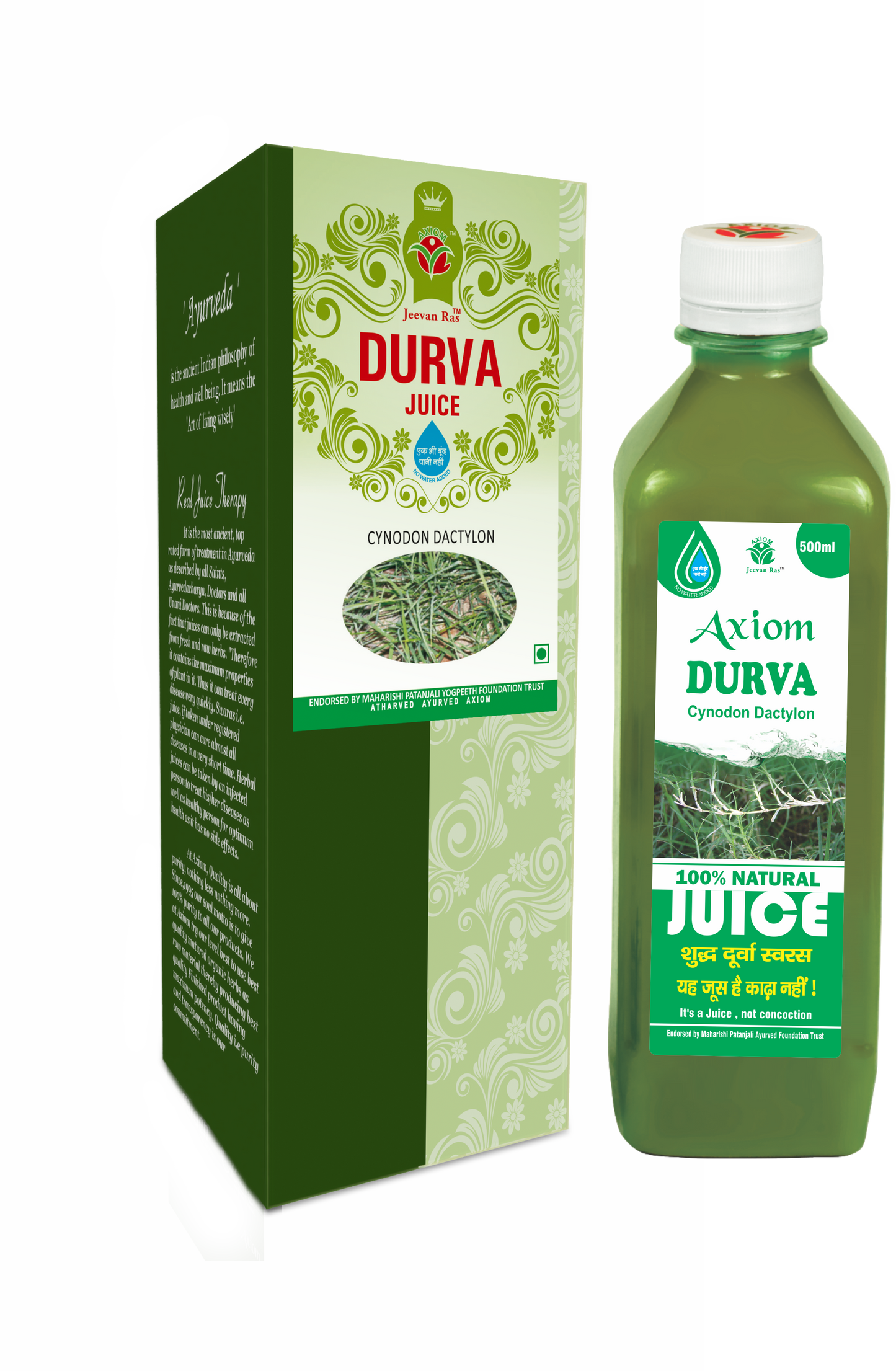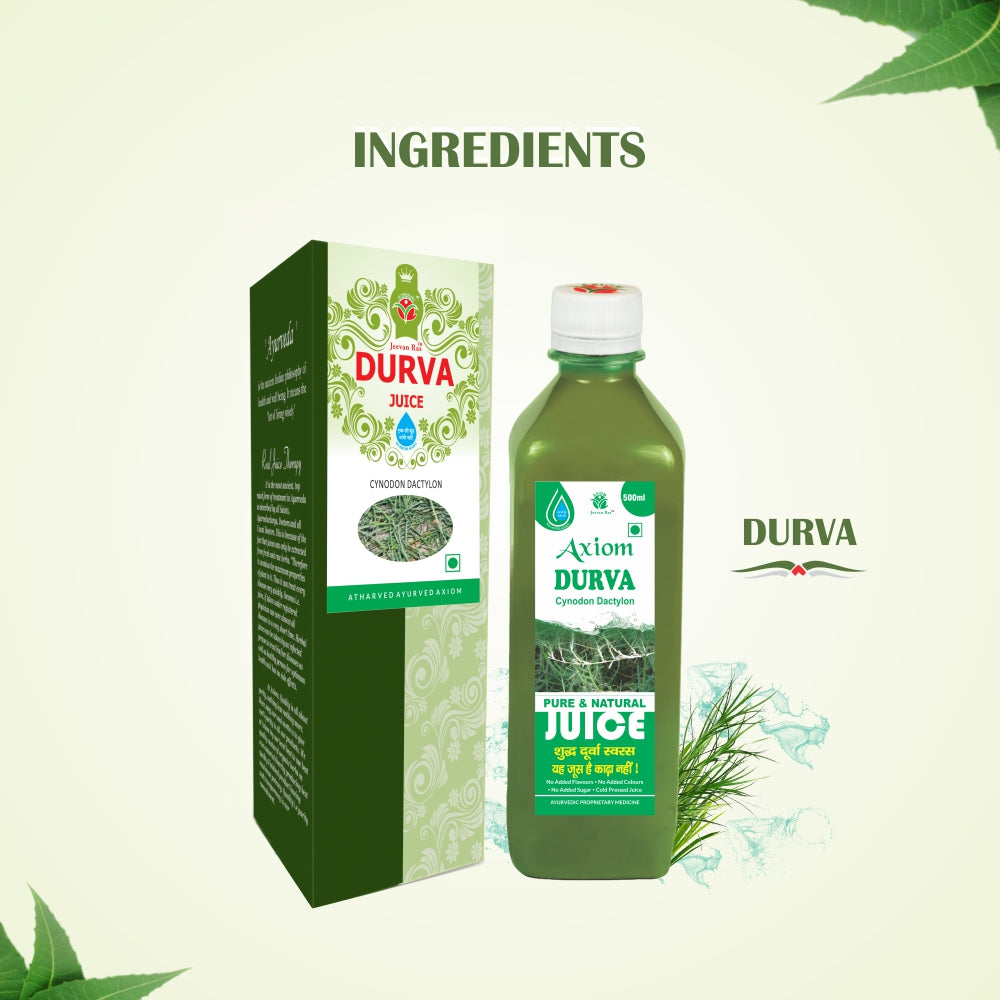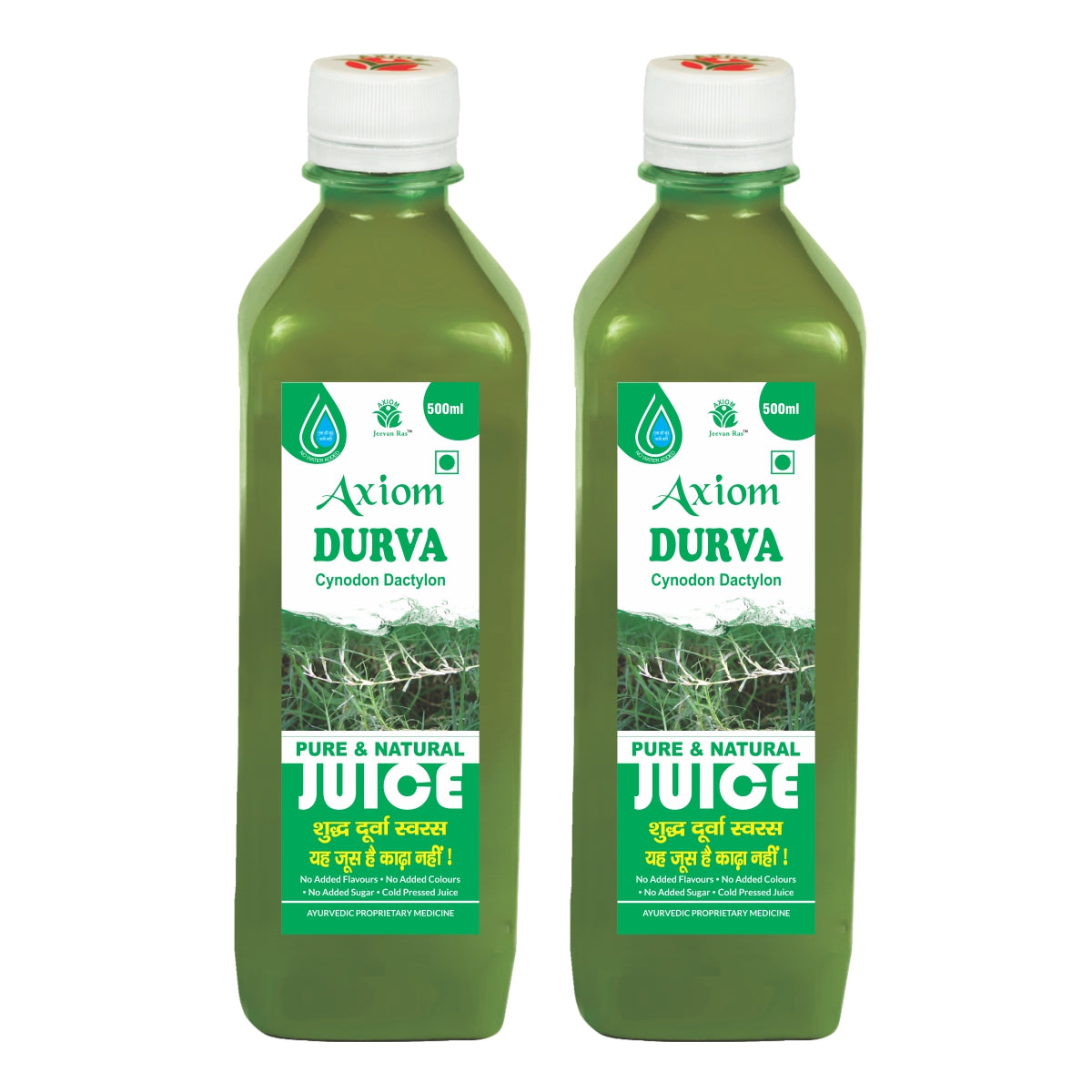 Product's Features
Key Ingredients

Durva grass juice has been used in traditional medicine for centuries due to its various health benefits. Made from freshly grown Durva grass. Durva grass, is a natural blood purifier.
How To Use

For long-lasting health benefits, mix 30ml of juice with 30ml of water and consume twice daily. If you take it in the morning, take it on an empty stomach. For the best possible results, take it regularly for 4-8 weeks.
Organisation & Certification

Axiom Ayurveda is serving towards humanity from more than 2
decades, Axiom Ayurveda Swaras are 100% Natural WHO GMP, GLP certified.