Helps To Improve Memory | Useful in Stress, Hypertension
Regular price
Rs. 300.00
Sale price
Rs. 270.00
Unit price
per
Sale
Sold out
JEEVAN RAS AXIOM SHANKHPUSHPI JUICE BENEFITS:
Helps to Improve Memory

Shankhpushpi helps improves memory by acting as a brain tonic due to its Medhya (improves intelligence) property.
Useful in Stress

According to Ayurveda, Shankpushpi calms the brain and helps relieve stress and anxiety. It can also calm and relax the mind.
Helps to Increase Mental Intelligence

It primarily takes care of the nerves by supporting and promoting a healthy brain and mind. It increases brain power and improves memory and concentration as well as memory capacity.
Helps with Insomnia issues

Shankpushpi helps manage stress and insomnia by calming the mind with Vata and media-balancing properties.
Helps with Epilepsy disorder

Due to its Medhya and Rasayana properties, Shankhpushpi helps reduce the risk of epilepsy and other mental disorders.
Improve digestion

Due to its mild laxative properties, it helps manage digestion and constipation. Stimulates the secretion of digestive juices to increase the absorption of essential nutrients and enhance digestion.
Helps in Hypertension

Shankpushpi helps as an amazing natural remedy to treat hypertension. It prevents the hardening of the arteries, reduces strokes, and prevents heart disease.
About this item

Shankhpushpi is a brain tonic and improves memory. Shankhpushpi is a plant native to India. It is scientifically called Convolvulus pluricaulis. Shakhpushpi is a Sanskrit word.
Drug that rejuvenates, maintains and potentiates intellect and memory. Its flowers can be blue or white in color. This plant is used from its root to its tips and has a wide range of potential uses in mankind.
Mental fatigue is a condition of excessive and prolonged cognitive activity. It mostly occurs due to excessive work using a computer, watching television for hours, learning or memorizing activities, etc., and causes a person to lose concentration and feel lethargic. Shankhpushpi is a powerful memory booster that helps in enhancing the brain's working capacity and reduce the loss of concentration.
HOW DO WE DO IT?
We select fresh, green, naturally matured, sun-kissed herbs, Every herb is carefully hand-picked at its peak making sure it's not bruised. We gently wash, crush, and press them with nothing added and taken away as we want them to be as nature offered. Then the pure juice is transferred to the automatic filling machines preventing the sunlight and air from affecting the nutritional quality of our juice. Hence you can enjoy the gift of nature in its original form.
STORAGE:
Store at room temperature (25-30°C). Protect from moisture and light. Keep the container tightly closed. Keep it out of the reach of children.
SHELF LIFE:
18 months from manufacturing.
Manufacture & Packed by:

 
Axiom Ayurveda Private Limited

Ward 15, Rampur Sarsehri Road Ambala Cantt,133001.
Expiry Date: 18 months from manufacturing
Share
View full details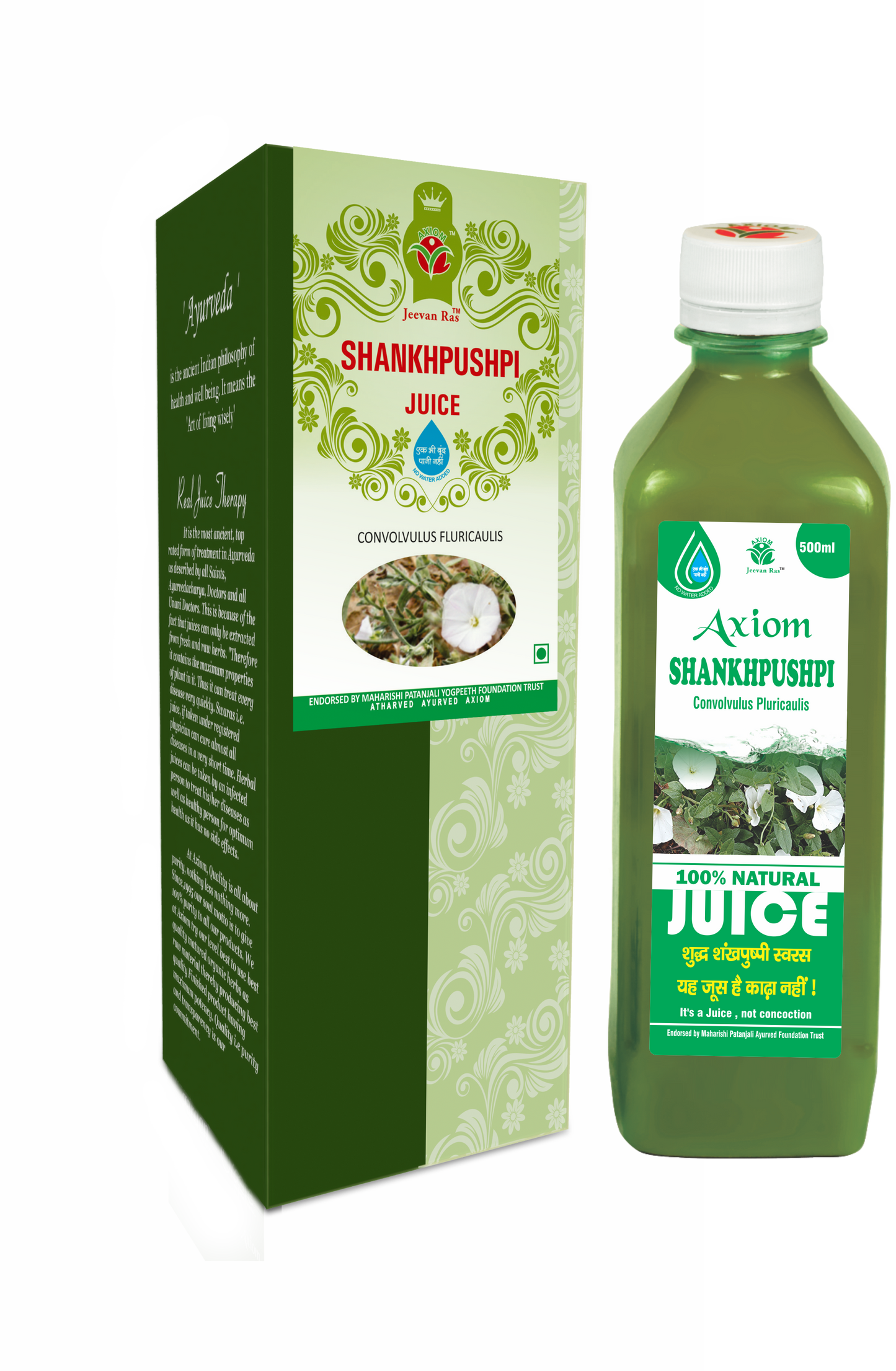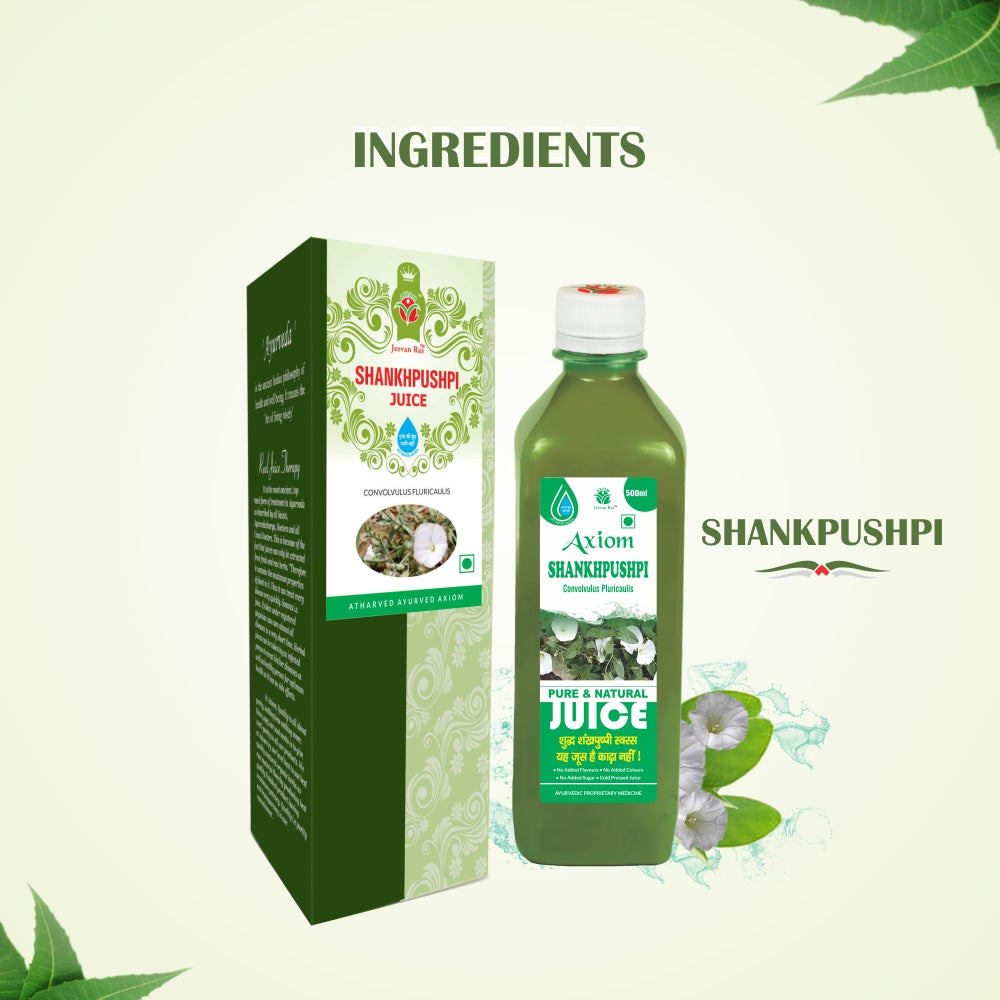 Product's Features
Key Ingredients

We have made Axiom Shankhpushpi Juice with fresh Herbs to make it a power-pack juice.
Pure 100% natural juice of Shankphushpi 99.8%
How To Use

For long-lasting health benefits, take 10-15ml of juice and consume it twice daily. If you take it in the morning, take it on an empty stomach. For the best possible results, take it regularly for 4-8 weeks or the prescribed amount as suggested by the ayurvedic practitioner or doctor.
Organisation & Certification

Axiom Ayurveda is serving towards humanity from more than 2
decades, Axiom Ayurveda Swaras are 100% Natural WHO GMP, GLP certified.
FAQ

Q1. Is Shankhpushpi good for Diabetes?
Ans: It has a benefit in lowering blood sugar in diabetics. Several studies have been done to support this, when this herb was added to the patient in the treatment of diabetes the reduction in blood sugar level was greater.


Q2. Can Shankhpushpi improve memory capacity?
Ans: Shankhushpi is a traditional remedy that improves brain function. Powerful antioxidants and flavonoids help improve memory, reduce stress, improve brain function, and reduce concentration problems.


Q3. Does Shankhpushpi Help in Managing Epilepsy?
Ans: Shankhpushpi is a powerful brain tonic rich in neuroprotective properties. It has been used as a serving tonic in traditional medicine since ancient times. It operates in the central nervous system and helps manage epilepsy episodes.


Q4. Does Shankhpushpi Helps in High blood pressure?
Ans: Shankhpushpi is the best option for lowering high blood pressure easily and naturally at home. The active components in Shankhpushpi tighten the cardiovascular muscles reducing the levels of high blood pressure or strokes.


Q5. Can Pregnant women take Shankhpushpi?
Ans: Shankhpushpi is considered good for pregnant women. Strengthens the uterus muscles and prevents miscarriages. However, harm can occur without medical advice so be sure to consult your doctor before taking Shankhpushpi.
A must product for students
A must product for students