Helps In Skin Problems | Works In Rheumatoid Arthritis
Regular price
Rs. 440.00
Sale price
Rs. 396.00
Unit price
per
Sale
Sold out
JEEVAN RAS AXIOM MAKOY JUICE BENEFITS:
Helps in Liver disorder

Makoy juice contains antioxidants and anti-inflammatory compounds that help to protect liver cells from damage caused by toxins and free radicals. It can also reduce oxidative stress, which is a common factor in liver diseases.
Helpful in UTIs (urinary tract infections)

The phytochemicals in black nightshade(Makoy juice) and its antimicrobial qualities make it the ideal remedy for people who frequently get urinary tract infections. It helps to flush out the bacteria and viruses that are growing inside your vulva by increasing urine production.
Help reduces Inflammation

Makoy juice contains anti-inflammatory compounds that can help to reduce swelling and inflammation in the body. This makes it beneficial for conditions such as inflammation, joint pain, and muscle soreness.
Help Lowers Blood Sugar

Makoy juice has been shown to have hypoglycemic effects, which means it can help to lower blood sugar levels. This makes it beneficial for people with high sugar levels or those who are at risk of developing the condition.
Supports Kidney Health

Makoy juice has diuretic properties, which means it can help to increase urine production and promote the elimination of waste products from the body. This can be beneficial for maintaining kidney health.
Promotes Skin Health

Makoy juice is rich in vitamins C, which is important for maintaining healthy skin. Drinking Makoy juice may help to improve the appearance of the skin, reduce the signs of aging, itching, and burning and promote overall skin health.
Helps in Weight Management.
Helps to reduce fat.

Helps in relieving pain in the ears.
 ABOUT THIS ITEM
Makoy ark is an Ayurvedic Rasayan that has a wide range of benefits, including anti-allergic, anti-diabetic, and laxative properties. It is also a very effective herbal diuretic. Makoy (Solalum Nigrum) is a herb that grows abundantly all over the world. In India, it commonly grows as a weed in dry areas. When ripe, its fruits are purple or black in colour.
HOW DO WE DO IT?
We select fresh, green, naturally matured, sun-kissed herbs, Every herb is carefully hand-picked at its peak making sure it's not bruised. We gently wash, crush, and press them with nothing added and taken away as we want them to be as nature offered. Then the pure juice is transferred to the automatic filling machines preventing the sunlight and air from affecting the nutritional quality of our juice. Hence you can enjoy the gift of nature in its original form.

STORAGE:
Store at room temperature (25-30°C). Protect from moisture and light. Keep the container tightly closed. Keep it out of the reach of children.
SHELF LIFE:
18 months from manufacturing.
Manufacture & Packed by:

 
Axiom Ayurveda Private Limited

Ward 15, Rampur Sarsehri Road Ambala Cantt,133001.
Expiry Date: 18 months from manufacturing
Share
View full details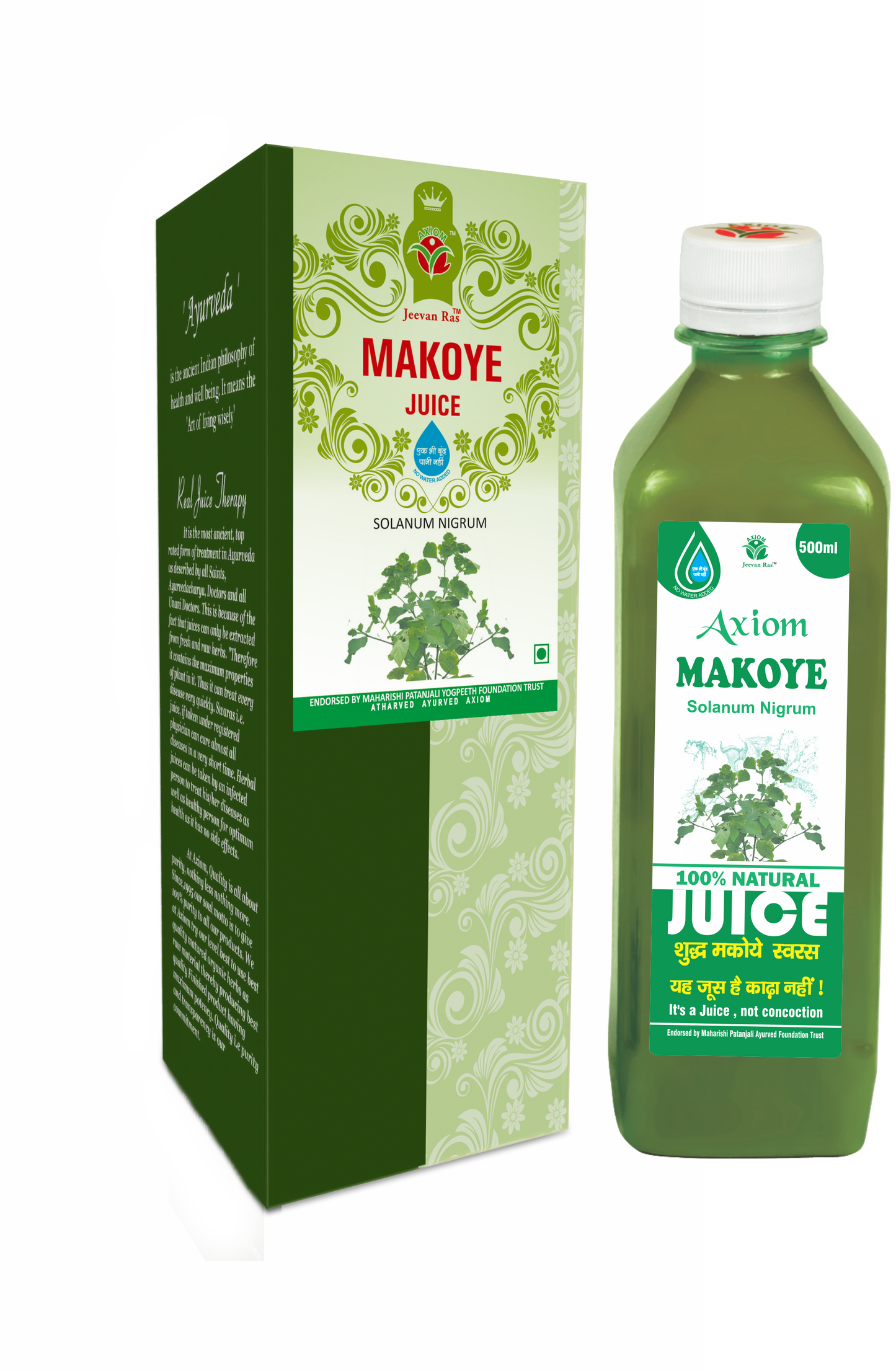 Product's Features
Key Ingredients

Axiom Makoy juice is made with fresh Makoy herbs. The juice is enriched with multiple nutrients. The juice of this herb is helpful in treating fever & alleviating pain. Makoy also helps in relieving pain in the ears.
How To Use

Shake well before use. For long-lasting health benefits, mix 20ml - 30ml of juice with 30ml of water and consume twice daily. If you take it in the morning, take it on an empty stomach. For the best possible results, take it regularly for 4-8 weeks or as directed by the physician.
Organisation & Certification

Axiom Ayurveda is serving towards humanity from more than 2
decades, Axiom Ayurveda Swaras are 100% Natural WHO GMP, GLP certified.
FAQ

Q1. What are the health benefits of Makoy juice?
Ans: Makoy juice has been traditionally used in Ayurvedic medicine for treating various ailments such as liver disorders, blood sugar, fever, and cough. It is also known to possess anti-inflammatory and antioxidant properties that can help boost the immune system, improve digestion, and promote healthy skin.


Q2. Can Makoy juice help in improving liver health?
Ans: Yes, Makoy juice is can be effective in treating liver disorders such as jaundice, hepatitis, and fatty liver. It has hepatoprotective properties that can help prevent damage to the liver cells and promote liver function.


Q3. Does Makoy juice help in managing diabetes?
Ans: Yes, Makoy juice has been shown to possess antidiabetic properties that may help regulate blood sugar levels. It contains compounds that can stimulate insulin production and improve glucose uptake by the cells.


Q4. Is Makoy juice safe to consume regularly?
Ans: While Makoy juice is generally safe to consume, it is always recommended to consult a healthcare professional before adding it to your daily diet. Pregnant and breastfeeding women, as well as people with certain medical conditions, should avoid consuming Makoy juice.


Q5. Are there any side effects of consuming Makoy juice?
Ans: While Makoy juice is generally safe to consume, excessive consumption may cause adverse effects such as nausea, vomiting, diarrhea, and abdominal pain. It is recommended to consume Makoy juice in moderation and consult a healthcare professional if you experience any adverse effects.