Helps in Skin Problems | Improves Respiratory Health
Regular price
Rs. 280.00
Sale price
Rs. 252.00
Unit price
per
Sale
Sold out
 JEEVANRAS AXIOM DRONPUSHPI JUICE BENEFITS:
Helps in Skin Problems, powerful antioxidant very effective in removing harmful free radicals
Helpful for Respiratory Health.
Useful for Cough, Cold, and Fever and relieves asthma
Useful in Indigestion.
Beneficial in case of worm infestation, and infected wounds.
If applied on the skin, soothes the itching sensation. Helps with skin diseases. For dental worms, Dronpushpi (Leucas Cephalotes) juice should be put in the ear as ear drops. Helpful in premature ejaculation.
ABOUT THIS ITEM
Dronapshpi is an ancient Ayurvedic herb with many medicinal properties that have been used in certain ritual practices and as a folk remedy. Dronapshpi grass grows as a weed in India and many Southeast Asian countries. The plant is yellow-green in colour and displays attached white flowers. It is collected for use as a leafy vegetable in rural areas and for medicinal purposes. The traditional use of this plant is to treat snake bites, coughs, and scorpion fever bites. It is also used to treat liver diseases, jaundice, asthma, cough, cold, etc.
HOW DO WE DO IT?
We select fresh, green, naturally matured, sun-kissed herbs, Every herb is carefully hand-picked at its peak making sure it's not bruised. We gently wash, crush, and press them with nothing added and taken away as we want them to be as nature offered. Then the pure juice is transferred to the automatic filling machines preventing the sunlight and air from affecting the nutritional quality of our juice. Hence you can enjoy the gift of nature in its original form.
STORAGE:
Store at room temperature (25-30°C). Protect from moisture and light. Keep the container tightly closed. Keep it out of the reach of children.
SHELF LIFE:
18 months from manufacturing.
Manufacture & Packed by:

 
Axiom Ayurveda Private Limited

Ward 15, Rampur Sarsehri Road Ambala Cantt,133001.
Expiry Date: 18 months from manufacturing


Share
View full details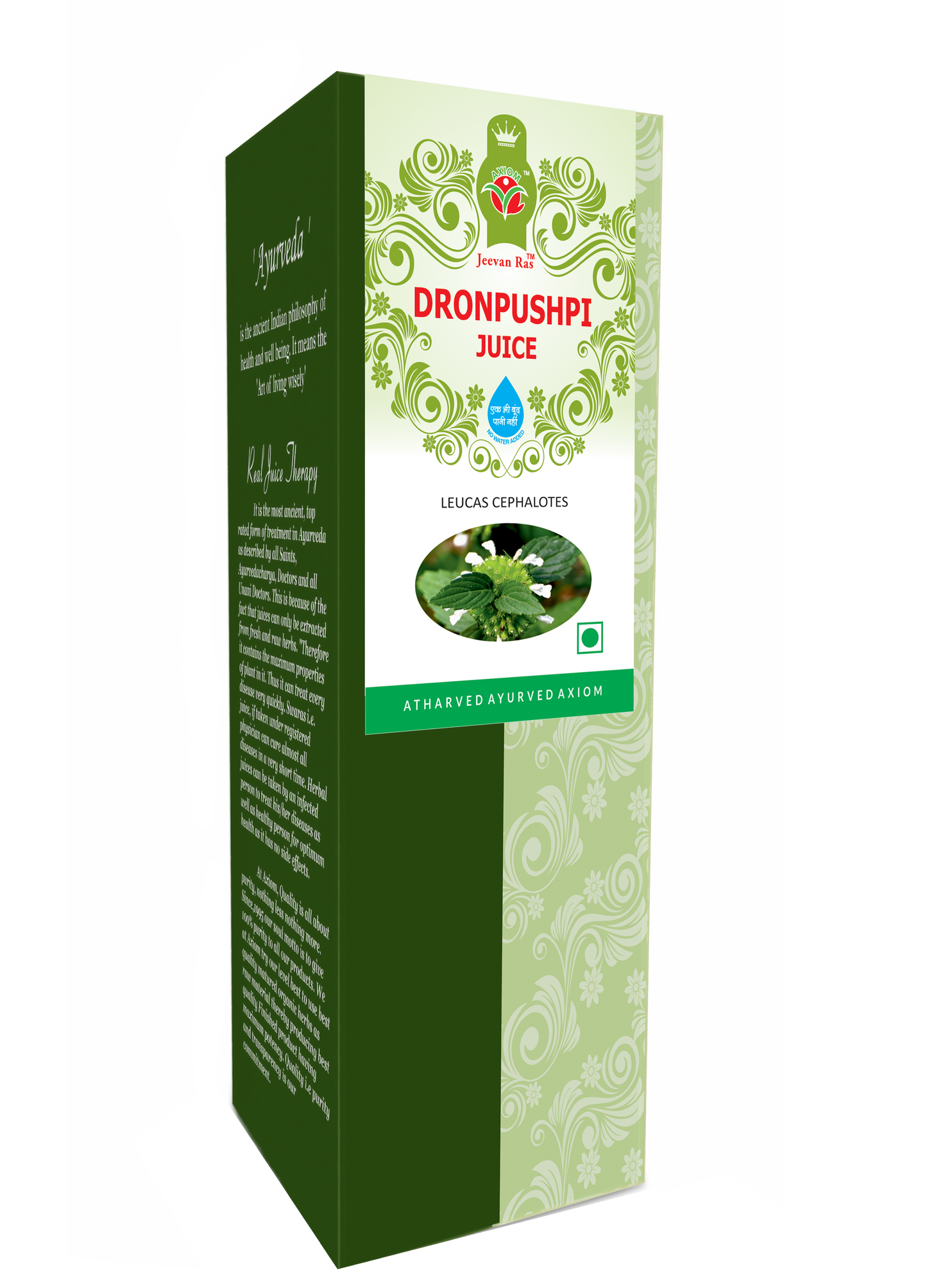 Product's Features
Key Ingredients

We have made Dronpushpi Juice with fresh Herbs to make it a power-pack juice. 100% natural extract. Dronapushpi, also known as Leucas Cephalotes, is an ancient ayurvedic herb. It is an important medicinal plant of Ayurveda. It is highly nutritive and helps to rejuvenate the whole body.
How To Use

For long-lasting health benefits, mix 30ml of juice with 30ml of water and consume twice daily. If you take it in the morning, take it on an empty stomach. For the best possible results, take it regularly for 4-8 weeks. It is advised to consume the formulation in the prescribed amount as suggested by the ayurvedic practitioner or doctor.
Organisation & Certification

Axiom Ayurveda is serving towards humanity from more than 2
decades, Axiom Ayurveda Swaras are 100% Natural WHO GMP, GLP certified.
FAQ

Q1. Can Dronpushpi Juice be used for treating snake bites?
Ans. Yes, Axiom Dronpushpi Juice can be used for snake bites. Rubbed the juice on the bitten area every 30 minutes.


Q2. Can Dronpushpi Juice be used for quick healing?
Ans: Yes, take around 1 tbsp of the juice for 3 days in an empty stomach daily to speed up the healing process.