Supports Immune system | Helpful in breakbone fever
Regular price
Rs. 280.00
Sale price
Rs. 252.00
Unit price
per
Sale
Sold out
JEEVAN RAS AXIOM BALA JUICE BENEFITS:
Helpful in Respiratory Health

The expectorant properties of Bala herbal juice can help relieve respiratory symptoms such as cough and congestion, making it a natural remedy for respiratory disorders such as asthma and bronchitis. It also works as a nasal decongestant, removes obstructions in the respiratory passage, and supports optimizing lung functions and health.
Remedies Urinary Problems

Yes, Bala herbal juice can be helpful with urinary problems. It is a diuretic which means it increases the production of urine and helps flush out bacteria and toxins from the body. It also contains anti-inflammatory compounds that can help relieve the symptoms of urinary tract infections. This potent herbal plant helps to strengthen the urinary system and cures the urinary and helps protect the kidneys from damage caused by free radicals.
Helpful in Fatigue

In Ayurvedic medicine, Bala herbal juice has traditionally been used as a tonic for the nervous system and a remedy for fatigue and weakness. It is believed to help improve circulation and provide nourishment to the tissues, which may help reduce fatigue and increase vitality.
Help Healthy Skin and Hair

Packed with immense amounts of antioxidants and other vital nutrients Bala juice helps to repair, restore, and revamp skin and hair health, regular intake of Bala enhances hair growth and strengthens the scalp.
Helpful in Common cold

Bala juice constitutes adaptogenic and immunomodulatory properties, which boosts immunity and does not allow the cold or its symptoms to occur repeatedly.
Helpful in Erectile Dysfunction

It is beneficial in treating erectile dysfunction and acts on the central nervous system. It contains ephedrine which acts as a mood-altering and enhancing drug, which increases the duration of erection and control ejaculation during sexual activities. Being a natural aphrodisiac, it improves libido and sexual well-being.
Helps to Boost Immunity.
Helps with All Kinds of Weaknesses.

Useful to Increase White Cells in Body.
Works against colitis and all kinds of weakness. Helpful in increasing sperm count and white blood cells. Helpful for dengue fever.
ABOUT THIS ITEM
Sida Cordifolia also called Bala which means "strength" is a popular herb in Ayurveda. All parts of Bala possess various medicinal properties, especially the root. With the freshness & goodness of natural ingredients, this juice is prepared in a traditional way to make it a perfect choice to have in your daily routine. The juice is enriched with multiple nutrients. Bala helps in managing weight, has antioxidant properties, and also helps in supporting the immune system due to its Rasayana (rejuvenating) property.
HOW DO WE DO IT?
We select fresh, green, naturally matured, sun-kissed herbs, Every herb is carefully hand-picked at its peak making sure it's not bruised. We gently wash, crush, and press them with nothing added and taken away as we want them to be as nature offered. Then the pure juice is transferred to the automatic filling machines preventing the sunlight and air from affecting the nutritional quality of our juice. Hence you can enjoy the gift of nature in its original form.
STORAGE:
Store at room temperature (25-30°C). Protect from moisture and light. Keep the container tightly closed. Keep it out of the reach of children.
SHELF LIFE:
18 months from manufacturing.
Manufacture & Packed by:

 
Axiom Ayurveda Private Limited

Ward 15, Rampur Sarsehri Road Ambala Cantt,133001.
Expiry Date: 18 months from manufacturing
Share
View full details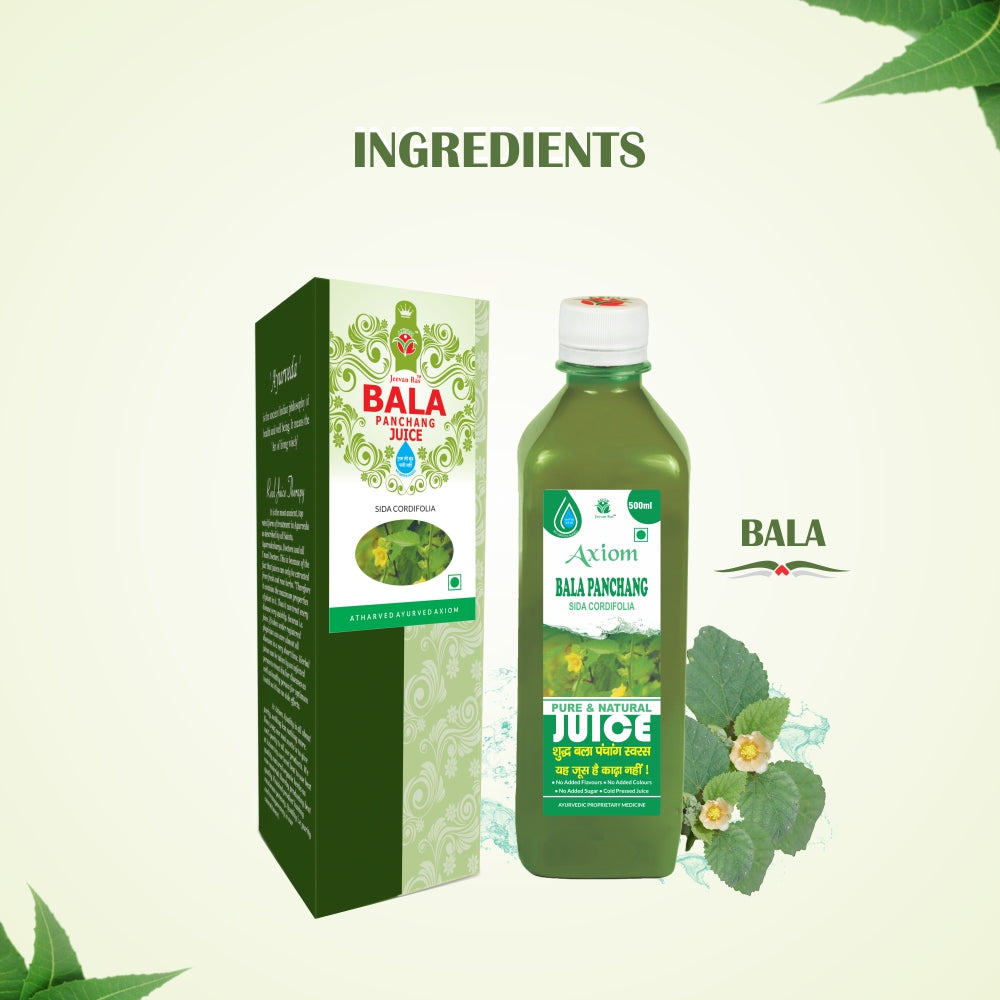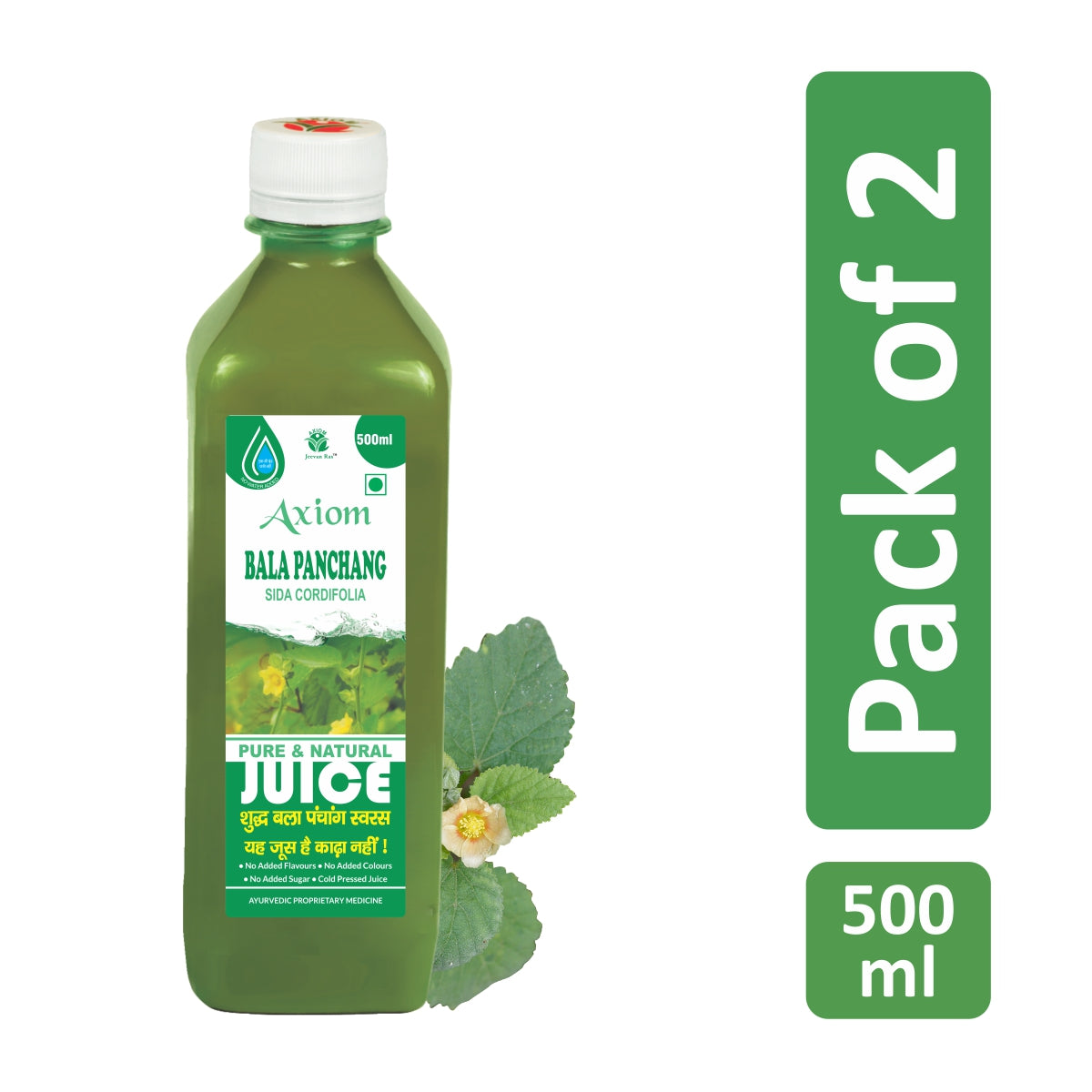 Product's Features
Key Ingredients

We have made Bala Juice with fresh Herbs to make it a power-pack juice.
How To Use

For long-lasting health benefits, mix 30ml of juice with 30ml of water and consume twice daily. If you take it in the morning, take it on an empty stomach. For the best possible results, take it regularly for 4-8 weeks.
Organisation & Certification

Axiom Ayurveda is serving towards humanity from more than 2
decades, Axiom Ayurveda Swaras are 100% Natural WHO GMP, GLP certified.
FAQ

Q1. What is Bala juice and what are its health benefits?
Ans: Bala juice is a natural drink made from the roots of the Bala plant. It is rich in antioxidants and has anti-inflammatory properties, which can help improve digestion, boost immunity, and promote overall health and wellness.


Q2. How does Bala juice improve digestion?
Ans: Bala juice contains natural digestive enzymes that help break down food and promote better digestion. It also has anti-inflammatory properties that can help reduce inflammation in the gut, which can lead to better absorption of nutrients.


Q3. Can Bala juice boost immunity?
Ans: Yes, Bala juice contains high levels of antioxidants that can help boost immunity and fight off harmful free radicals in the body. It also contains vitamins and minerals that are essential for a healthy immune system.


Q4. Does Bala juice have any anti-inflammatory properties?
Ans: Yes, Bala juice has strong anti-inflammatory properties that can help reduce inflammation throughout the body. This can lead to reduced pain and swelling, improved joint health, and better overall health and wellness.


Q5. Can Bala juice be used to treat skin conditions?
Ans: Yes, Bala juice can be used topically to treat a variety of skin conditions, including eczema, psoriasis, and acne. Its anti-inflammatory properties can help reduce redness and inflammation, while its antioxidants can help promote healthy skin cells.


Q6. How is Bala juice helpful in managing fatigue?
Ans: Bala juice contains vitamins and minerals that can help improve energy levels, antioxidants which can reduce inflammation and fight free radicals, B-complex vitamins which help the body convert food into energy, and natural carbohydrates which can provide an extra boost of energy.


Q7. How often should I drink Bala juice?
Ans: For optimal health benefits, it is recommended to drink Bala juice on a daily basis.
Good quality axiom juices
Good quality juices Swaras manufactured by Axiom company, please keep the quality always