Natural Insulin | Lower Blood sugar
Regular price
Rs. 510.00
Sale price
Rs. 459.00
Unit price
per
Sale
Sold out
Manufacture & Packed by : Axiom Ayurveda Private Limited
Ward 15, Rampur Sarsehri Road Ambala Cantt,133001.
Dhania Panchang Juice acts as a natural insulin hence works for diabetics. Should be taken with honey for excessive thirst, acidity and fever. Massage this juice on head for headache.
Composition: (each 100ml contains)
Pure Juice of Dhania 99.8%
(Coriandrum Sativum)
Other Ingredients 0.2%
(Sodium Benzoate)
Expiry Date : 18 months After manufacturing
ABOUT THIS ITEM
FIRST BRAND:

Axiom Dhania Juice was first launched in "Swaras" form (Real Juice Therapy) in 1995 by an Indian Doctor and founder of Axiom Ayurveda. The real juice therapy is blending herbs for its pure juices and with nothing added or taken out, these juices are extracted out in sterilized form, bottled with love for our consumers.

CERTIFICATION AND USES:

For best results, consume 20-30ml twice a day with lukewarm water after meals or as directed by the physician. Axiom Dhania Juice is 100% Natural WHO GMP, GLP.

MORE THAN 2 DECADES OF LEGACY:

Our strongest network of herb growers sources only the purest herbs from indigenous locations in the country. We infuse the expertise of our decades of knowledge to provide you with the best possible results.
Axiom Dhaniya Juice
Introduction Unlike all great stories, our tale begins 24 years ago when an independent visionary woman believed and brought the idea of "Swaras Chikitsa" into existence, first time in the world. Late Dr. Hemlata Gupta who was Snr. Medical Officer then, planted the first sapling of Axiom Ayurveda in 1995 at Ambala Cantt, Haryana. Axiom is further set in motion by her grandson Mr. Rishabh Gupta, a techie by education with Diploma in international marketing from Europe. He steered Axiom ahead in its growth plans with novel technologies, attractive packaging and connecting better with consumers. Under his leadership, Axiom has reached to newer heights by introduction of new segments and here from the house of axiom, we launched Axiom Dhaniya juice
Healthy herbal juice

With the freshness & goodness of natural ingredients, this juice is prepared in a traditional way to make it a perfect choice to have in your daily routine.

Healthful Juice

The juice is enriched with multiple nutrients. With no added color & flavour the juice is a rich source of vitamin C and calcium. It helps to manage skin inflammations and enhance the immune system.

More to know

Dhaniya also called Coriandrum Sativum is an annual herb cultivated extensively in many parts of the world as a spice crop. Leaves and fruits of the plant have medicinal properties too.
Shake the bottle well before use

Shake the bottle well before use, so you get the every dose with full of nutrients.

Take 20-30 ml Dhania Juice

Take 20-30 ml of Dhania juice twice a day or as directed by the physician.

Consume Empty Stomach

Consume Empty Stomach
Share
View full details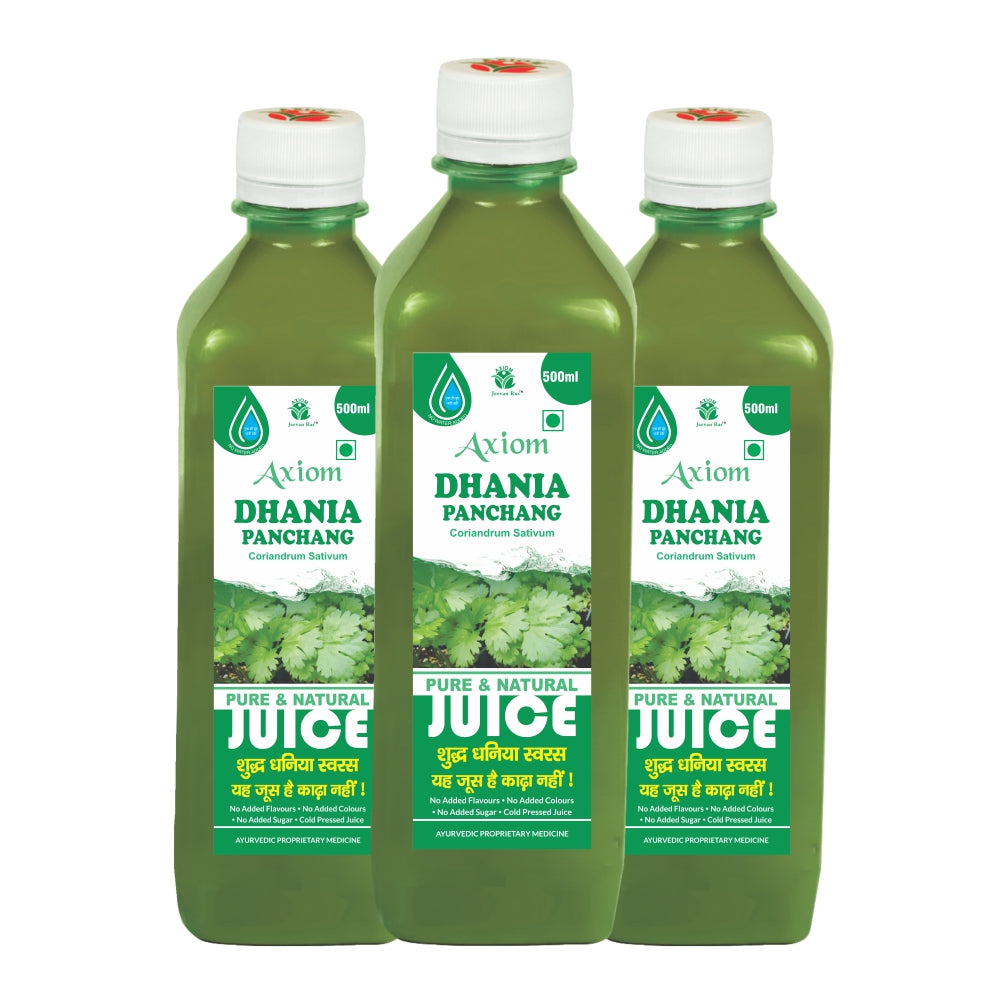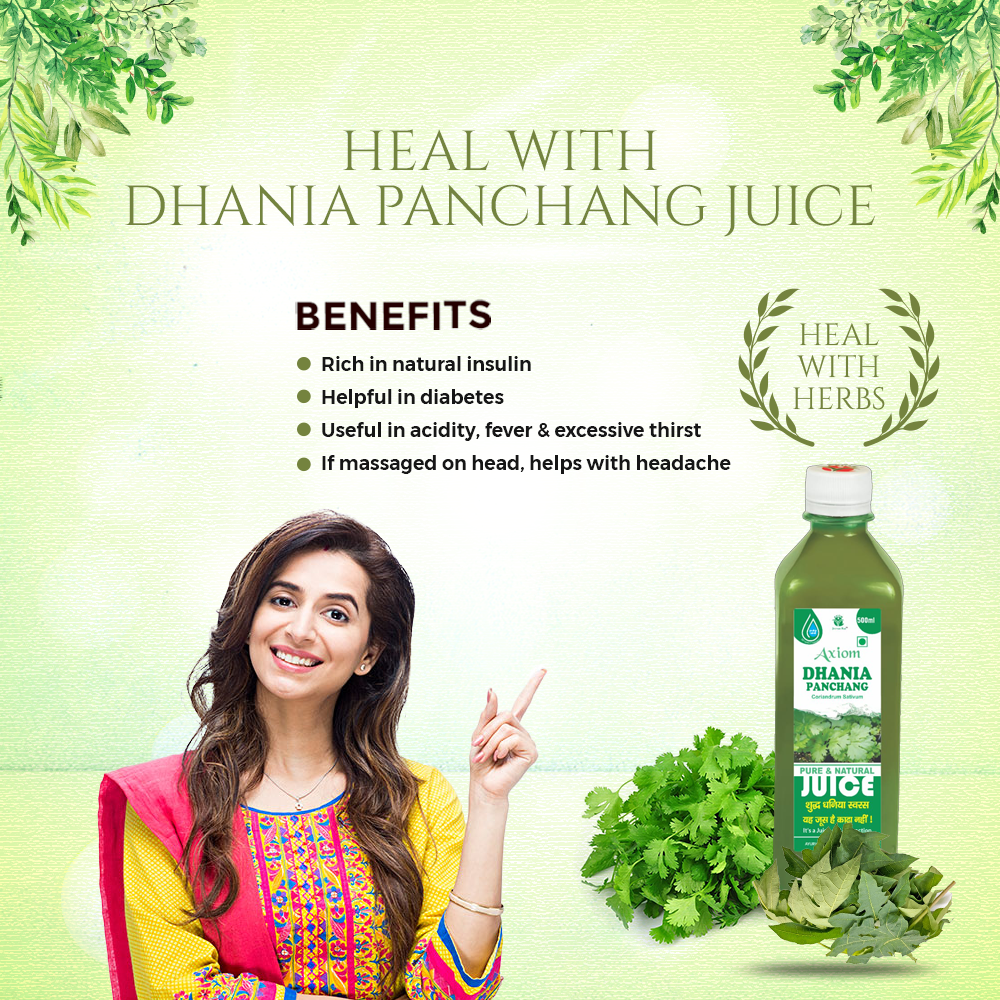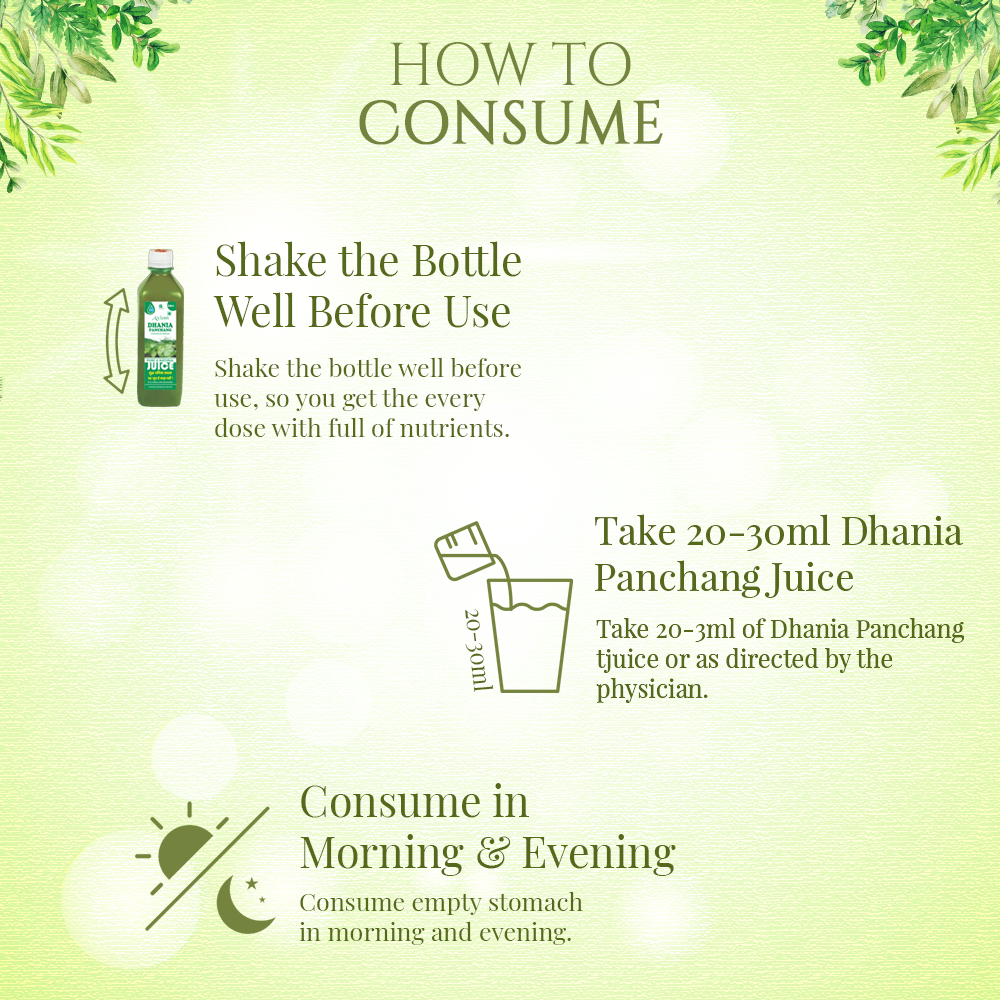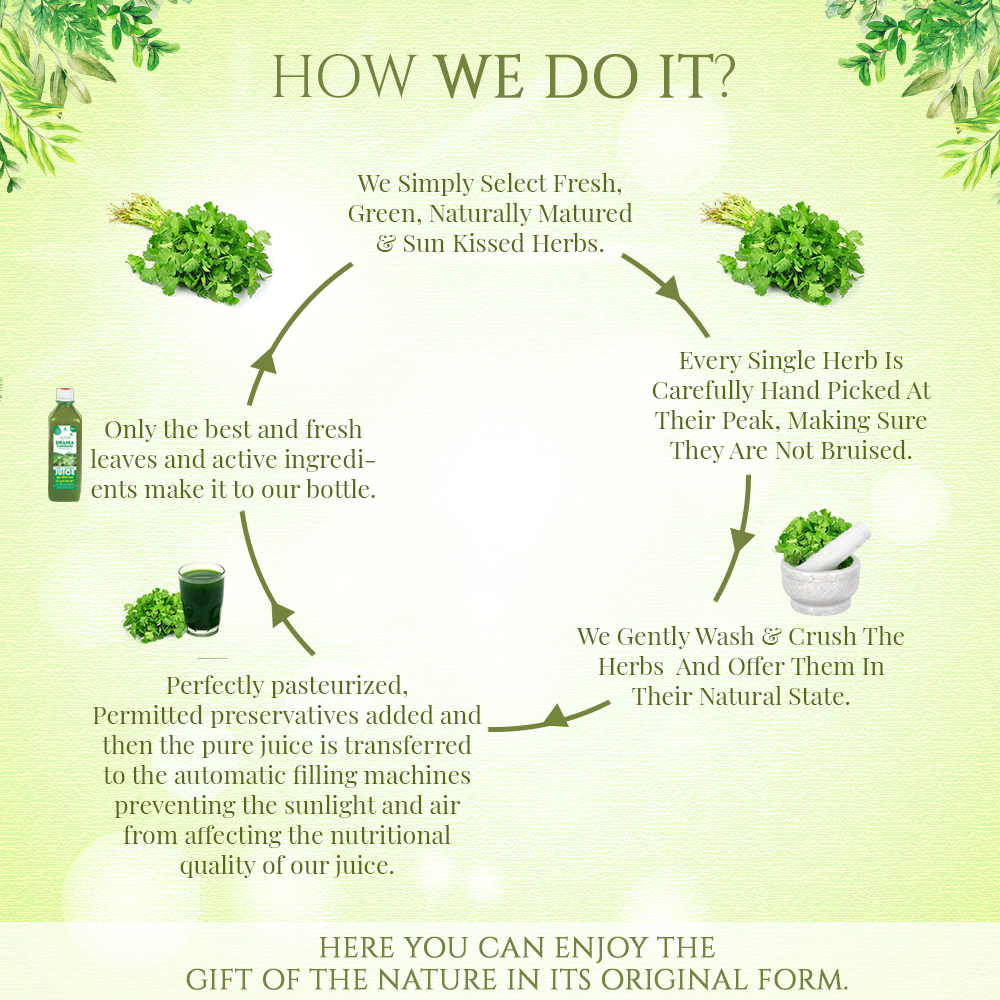 Product's Features
Organisation & Certification

Axiom Ayurveda is serving towards humanity from more than 2
decades, Axiom Ayurveda Swaras are 100% Natural WHO GMP, GLP certified.