Improve Digestion | Increase Blood Count & Haemoglobin
Regular price
Rs. 510.00
Sale price
Rs. 459.00
Unit price
per
Sale
Sold out
JEEEVAN RAS AXIOM BATHUA JUICE BENEFITS:
Helps to Improve Digestion.
Useful in Piles.
Cure Constipation.
Effective in Kidney Stones.
Good for Liver damage due to excessive alcohol drinking.
Helps to increase blood Count & Haemoglobin.
Helps to improve body Strength.
Effective against Intestinal Worms.
ABOUT THIS ITEM
Bathua (Chenopodium album) is called 'White goosefoot' in English and 'Bathua' in Hindi. It occurs in all tropical regions of the world. In India, the leaves are eaten as a leafy vegetable and cooked like other saag, curd Bathua raita, and Bathua paratha. It is highly nutritious and contains a full range of essential amino acids. It is useful to improve appetite or treat parasitic infections, as a tonic, and laxative, and to improve general health. It is one of the richest sources of plant vitamin A. 
HOW DO WE DO IT?
We simply select fresh, green, naturally matured, sun-kissed herbs, Every herb is carefully hand-picked at its peak making sure it's not bruised. We gently wash, crush, and press them with nothing added and taken away as we want them to be as nature offered. Then the pure juice is transferred to the automatic filling machines preventing the sunlight and air from affecting the nutritional quality of our juice. Hence you can enjoy the gift of nature in its original form.
STORAGE:
Store at room temperature (25-30°C). Protect from moisture and light. Keep the container tightly closed. Keep it out of the reach of children.
SHELF LIFE:
18 months from manufacturing.
Manufacture & Packed by:

 
Axiom Ayurveda Private Limited

Ward 15, Rampur Sarsehri Road Ambala Cantt,133001.

Expiry Date: 18 months from manufacturing


Share
View full details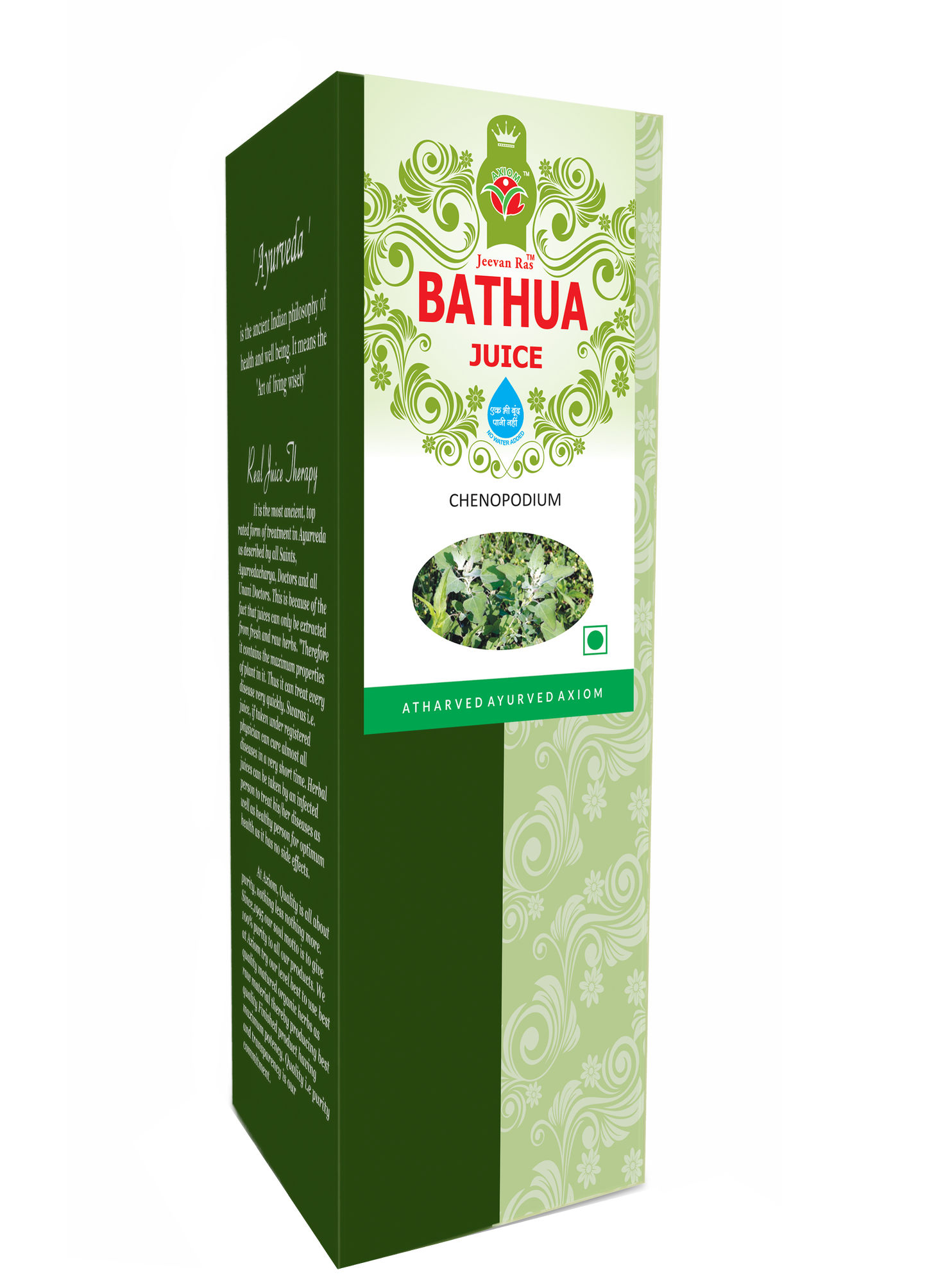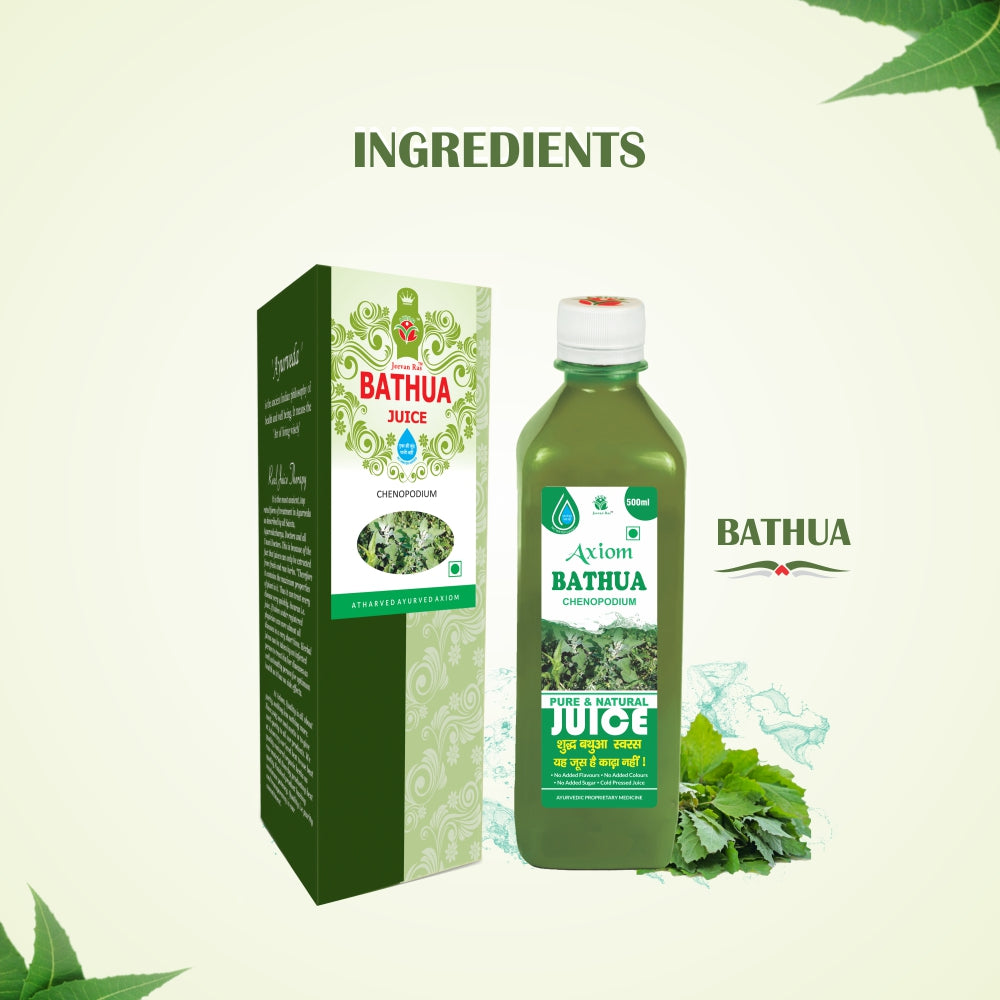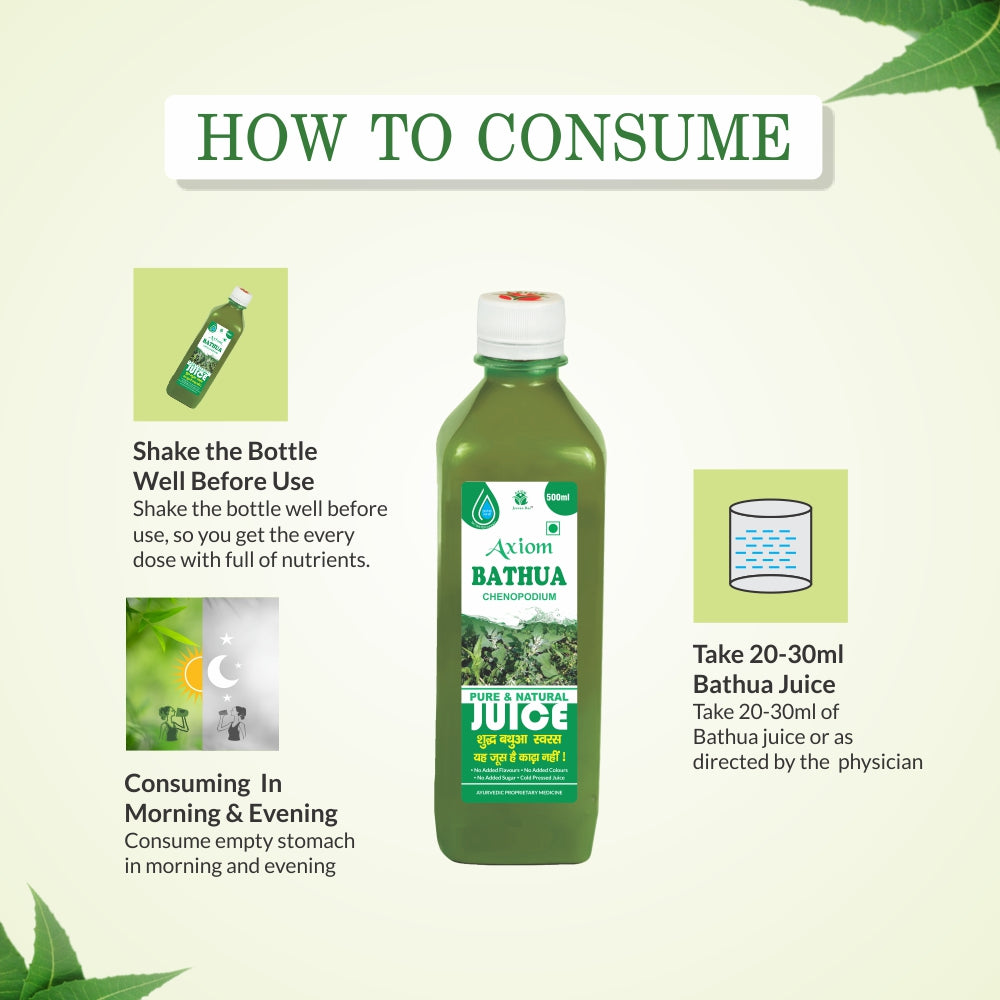 Product's Features
Key Ingredients

We have made Bathua Juice with fresh Herbs to make it a power-pack juice. Bathua has amazing health benefits and contains a sufficient amount of nutrients that can cure various diseases or health problems a good source of high-quality protein, nutrients, antioxidants, and vitamins, particularly vitamin c and vitamin A.
The Bathua plant contains a high percentage of fibre which treats constipation, purifies the blood rich in Vitamin C, it helps maintain strong bones and teeth. Excessive consumption of alcohol in Bathua helps protect the liver against these factors. Bathua leaf juice keeps the digestive system healthy, which is useful for treating digestive problems.
How To Use

For long lasting health benefits, mix 30ml of juice with 30ml of water and consume twice daily. If you take it in the morning, take it on an empty stomach. For best possible results, take it regularly for 4-8 weeks.
Organisation & Certification

Axiom Ayurveda is serving towards humanity from more than 2
decades, Axiom Ayurveda Swaras are 100% Natural WHO GMP, GLP certified.
FAQ

Q1. Can Bathua juice Improve Digestion?
Ans: Yes, Axiom Bathua juice improve digestion. It contains high percentage of fibre which treats constipation. It also has anti-inflammatory and antioxidant properties.


Q2. Can Bathua juice protects the Liver?
Ans: Liver damage from unhygienic or excessive alcohol intake. Bathua protects the liver in these situations, also protecting it from toxins caused by various drugs and medicines.


Q3. Is Bathua juice is helpful in bones and teeth?
Ans: Bathua juice is very rich in vitamin C, which is beneficial for bones and teeth. Vitamin C can help repair blood vessels after injury and repair damaged capillaries.