This combo is designed to strengthen hair roots, leaving you with a shiny and lustrous look. It deeply nourishes your hair, promoting healthy hair growth. Experience the antioxidant benefits of neem, which not only protects your skin from harmful UV rays.
Regular price
Rs. 330.00
Sale price
Rs. 297.00
Unit price
per
Sale
Sold out
POWER PACK HAIRWASH: Mukti Gold Hairwash is a herbal shampoo that strengthens the hair while leaving it soft and bouncy. It has a cell repair formula, which repairs the hair quality and helps in rescuing the hair roots. It helps in maintaining long, lovely, and strong hair. It is very effective in controlling dandruff if used with Mukti Gold Juice Oil for Hair
SKIN SPECIALIST: MuktiGold Aloe vera Showergel has Neem which is best known for its anti-aging properties. Due to its antioxidant properties, neem protects the skin from harmful UV rays, pollution, and other environmental factors. The vitamins and fatty acids in neem improve and maintain the elasticity of the skin, and reduce wrinkles and fine lines.
COMBINATION OF HERBS: Amla, Harar, Coconut, Shikakai, Nagarmotha, Brahmi, Neem, Bawachi, Amba, Arjun, Bhringraj, Rose, Jamul chal, Bahera, Belpatra and Reetha as the foaming agent.
PIONEERS WITH OVER 2 DECADES OF EXPERTISE: Axiom is the PIONEER in SWARAS CHIKITSA, started in 1995, which is now adopted by many giants considering this as the best way of treatment.
CERTIFICATIONS: Axiom's highly standardized production facility is accredited with -ISO 22000:2005 -WHO-GMP -FSSAI -Certified by OneCert - Among India's top 100 SMEs. - Adheres to the highest standards of hygiene"



Expiry Date: 18 months After manufacturing
Manufacture & Packed by: Axiom Ayurveda Private Limited Ward 15, Rampur Sarsehri Road Ambala Cantt,133001.
Share
View full details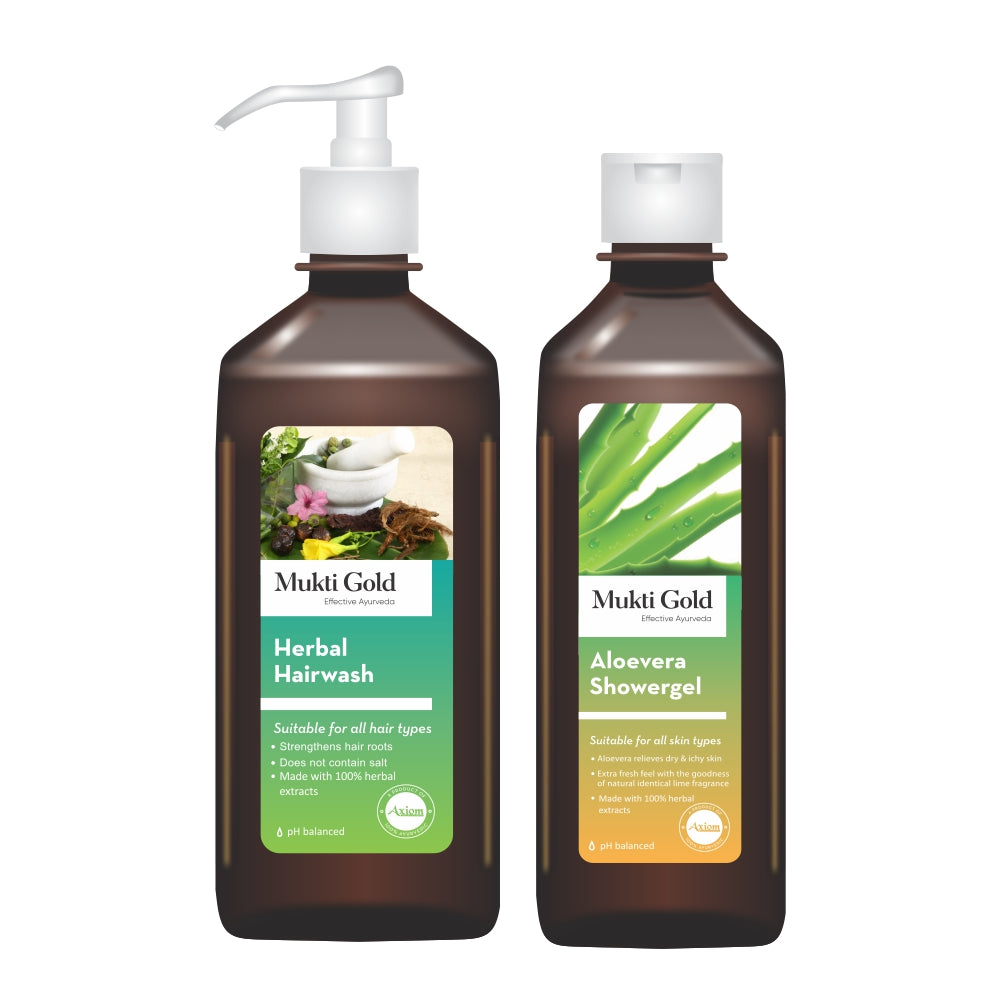 Product's Features
Key Ingredients

Axiom MuktiGold Herbal Hairwash contains rare herbs Amla, Harar, Coconut, Shikakai, Nagarmotha, Brahmi, Neem, Bawachi, Amba, Arjun, Bhringraj, Rose, Jamul chal, Bahera, Belpatra

Axiom Mukti Gold Showergel contains Aloe vera Extracts, Neem Extract, Papaya Extracts, Kheera Extracts, Haldi Extracts, Manjistha Extracts, Gulab Extracts
How To Use

1. Apply Hairwash on Wet Hair
2. Massage 3-4 Minutes
3. Rinse properly
4. Dry your Hair Naturally
Organisation & Certification

Axiom Ayurveda is serving towards humanity from more than 2
decades, Axiom Ayurveda Swaras are 100% Natural WHO GMP, GLP certified.