Useful In Hypertension | Acidity, Gas, Falling Hair
Regular price
Rs. 130.00
Sale price
Rs. 117.00
Unit price
per
Sale
Sold out
AXIOM LOUKI JUICE BENEFITS:
Useful for Cholesterol

The Louki juice contains a lot of soluble dietary fiber, which helps to balance blood pressure and reduce high cholesterol levels, fats, and lipoproteins.
Reduces stress levels

Lauki juice contains the highest amount of choline, a neurotransmitter that helps improve brain function. It can also help prevent depression, stress, and various mental illnesses. 
Helps in lowering Blood sugar

Drinking Lauki juice can lower blood sugar levels. Researchers have observed that the antioxidant properties of Louki juice may aid in post-meal blood sugar control. 
Immunity Booster

It is a good source of carbohydrates, vitamins A and C, and minerals. These vitamins help strengthen the immune system and prevent diseases. 
Useful in Weight Management

Lauki juice is commonly used for weight loss. Lauki juice is very low in fat and cholesterol and high in fiber which will help you shed those extra inches fast.
Useful in Acidity, Constipation, Gas

Bottle gourd juice can help with constipation and can also be used to treat diarrhea. It has 98% water and fiber content, it cleans the digestive tract, and facilitates bowel movements.
Helps in improving Hair and Skin

It is useful not only for health problems but also for cosmetic problems. Bottle gourd juice is a natural cleanser that helps in removing toxins from the body. Hair loss and premature graying of hair can be prevented by applying Lauki juice to the scalp.
Reduce Acne and Pimples

Lauki juice has tremendous cleansing properties. This tonic detoxifies our skin and internal systems, keeping away dirt, toxic elements, and dust. In addition, it regulates sebum production and reduces pimples.
Lauki Juice useful for the Liver

It treats flatulence and acidity, which reduces hepatitis. This helps in the proper emptying of bile. Due to its alkalizing effect, consuming Louki juice helps treat gallstones and obstructive jaundice.
Adds to the natural glow of the skin
Delaying premature skin aging and reducing wrinkles
Helps in improving sleeping disorder
ABOUT THIS ITEM
Lauki or bottle gourd is considered a healthy vegetable. Bottle gourd is scientifically known as Lagenaria siceria. It has light green soft skin and white flesh. It has been used for its benefit since ancient times. It is also considered a good source of vitamins B, C, and other nutrients. It has many shapes like a bottle, dumbbell, or oval. Bottle Gourds are traditionally used to help with many health conditions including stress, lowering blood sugar, weight control, hair and skin, acidosis, constipation, and heart health.
HOW DO WE DO IT?
We select fresh, green, naturally matured, sun-kissed herbs, Every herb is carefully hand-picked at its peak making sure it's not bruised. We gently wash, crush, and press them with nothing added and taken away as we want them to be as nature offered. Then the pure juice is transferred to the automatic filling machines preventing the sunlight and air from affecting the nutritional quality of our juice. Hence you can enjoy the gift of nature in its original form.
STORAGE:
Store at room temperature (25-30°C). Protect from moisture and light. Keep the container tightly closed. Keep it out of the reach of children.
SHELF LIFE:
18 months from manufacturing.
Manufacture & Packed by:

 
Axiom Ayurveda Private Limited

Ward 15, Rampur Sarsehri Road Ambala Cantt,133001.
Expiry Date: 18 months from manufacturing
Share
View full details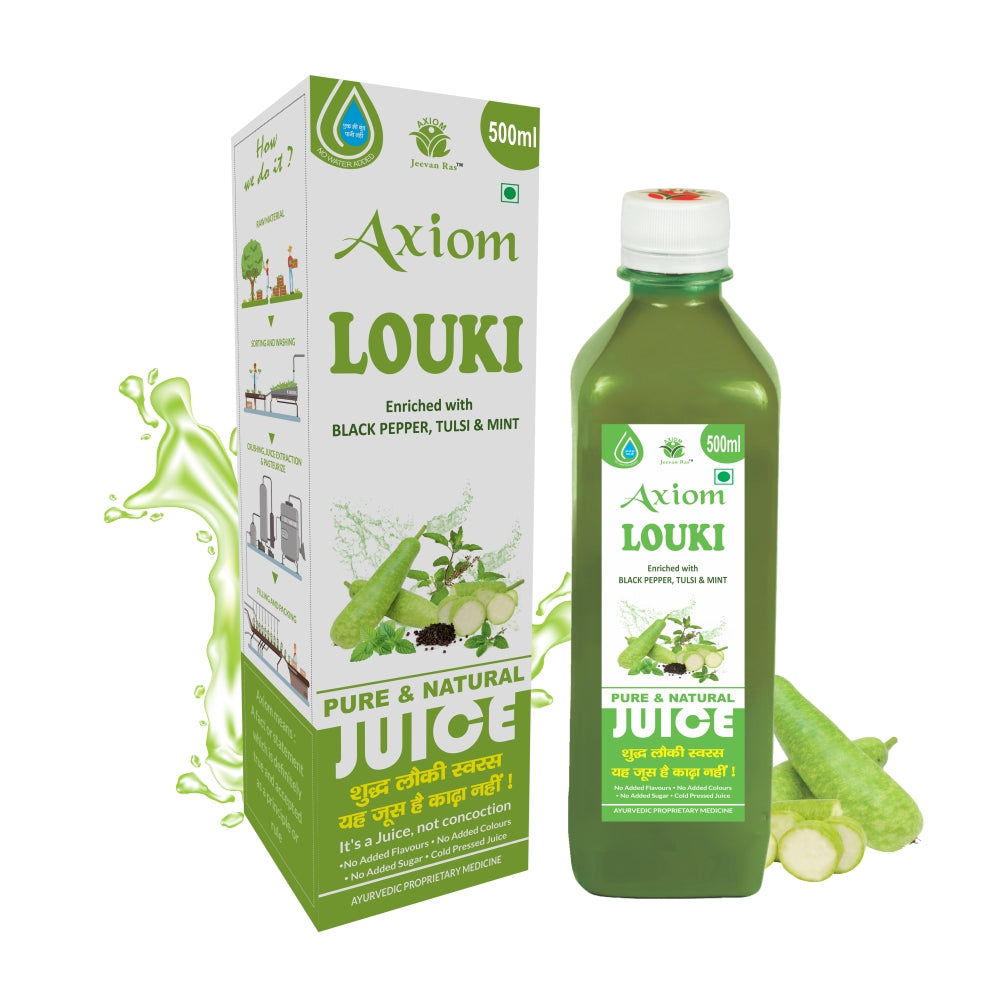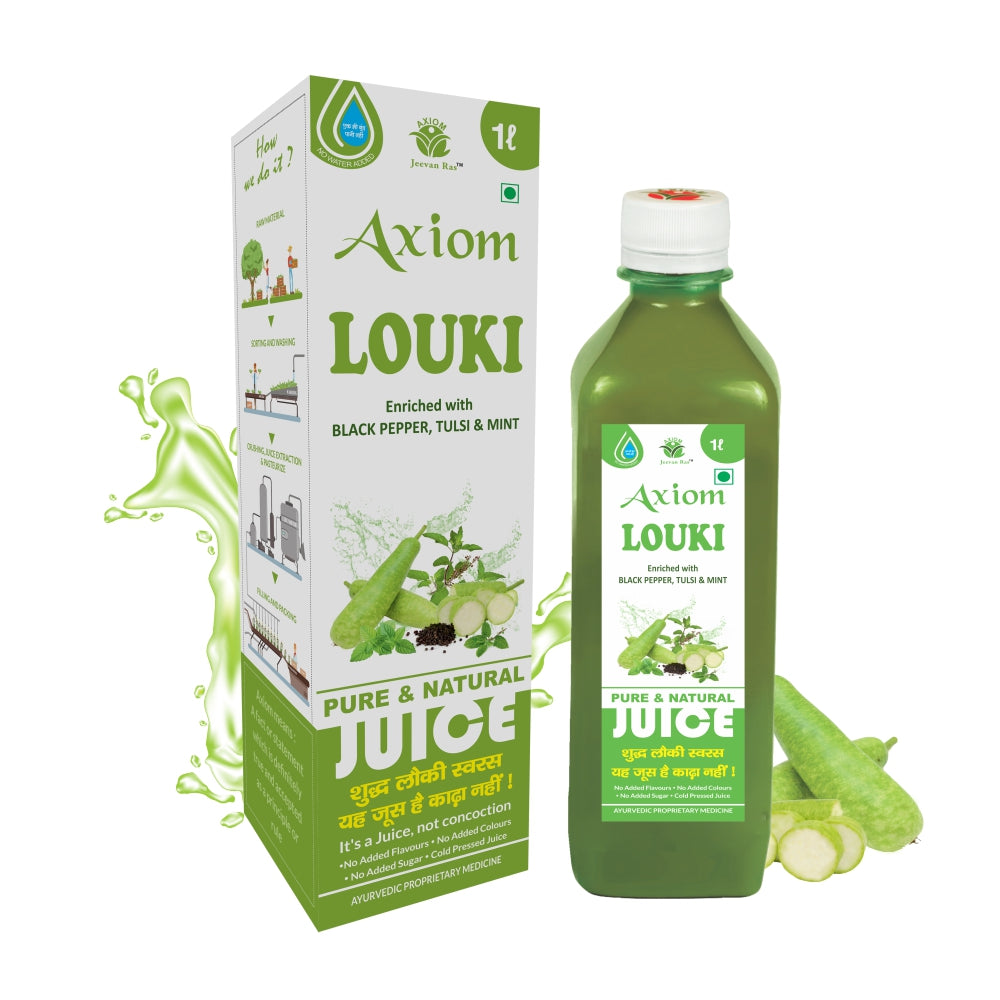 Product's Features
Key Ingredients

Lauki in Hindi, is a common vegetable in India. it has much medicinal use, and is found in every home in India. We carefully hand-picked fresh Lauki making sure it was not bruised. We gently wash, crush, and press them with nothing added and taken away as we want them to be as nature offered.
How To Use

For long-lasting health benefits, take 20-30ml of juice and consume it twice a day. If you take it in the morning, take it on an empty stomach. For the best possible results, take it regularly for 4-8 weeks or as directed by the physician.
Organisation & Certification

Axiom Ayurveda is serving towards humanity from more than 2
decades, Axiom Ayurveda Swaras are 100% Natural WHO GMP, GLP certified.
FAQ

Q1. Is Lauki juice benefits for skin?
Ans: Bottle gourd or Lauki are rich in Vitamin C. Vitamin C may benefit skin health. Vitamin C can be helpful in protecting the skin from damage caused by UV rays.


Q2. Are lauki juice is beneficial for weight loss?
Ans: Bottle gourds are low in calories and mostly contain water. Lauki is also high in fiber. It is said that lauki juice could help reduce that excess belly fat.


Q3. Does lauki juice is helpful for hair?
Ans: Drinking lauki juice might help to maintain healthy hair. Hair loss and premature graying of hair can be prevented by applying Lauki juice to the scalp.


Q4. Does lauki juice benefits in maintaining blood sugar?
Ans: Lauki juice can be effective in controlling blood sugar. This is because it contains antioxidants like Vitamin C which help in controlling blood sugar levels.


Q5. What Happens if We Drink Bottle Gourd Juice every day?
Ans: Drinking luki juice daily can help reduce stress. Among the benefits of Lauki is its cooling properties. Plus, this vegetable keeps your heart healthy.


Q6. Is Lauki juice helpful to treat heart blockages? 
Ans: Lauki juice Gourd juice has a high-water content and is an excellent source of calcium, vitamin C and K. It helps maintain heart health and lower cholesterol levels.
Best quality
It's really fresh and pure, with true taste and benefits but when I opened the parcel it's metering cap was broken. So kindly check these things before sending to customer.
Thanks
Tasteless but good tonic for body
Tasteless but good tonic for body