Manage Blood Sugar Levels | Improves Digestion
Regular price
Rs. 180.00
Sale price
Rs. 162.00
Unit price
per
Sale
Sold out
AXIOM JEEVAN RAS KARELA JAMUN JUICE BENEFITS:
It helps to Manage Blood Sugar Levels

Axiom Karela Jamun contains Karela, Jamun, Neem, and Giloye, which are known to lower blood sugar levels. These herbs act like insulin, helping to transport glucose into the cells for energy. Drinking Axiom karela Jamun juice can help your cells utilize glucose and convert it to glycogen.
Helps to Improves Digestion

Regular consumption of bitter gourd contributes to relieving constipation and indigestion The pulp of Jamun fruit can be applied to get relief from inflammation due to its anti-inflammatory property.
Skin Wellness

Axiom Karela Jamun juice contains Neem leaf juice, an important part of Ayurvedic medicine. Neem leaf juice helps balance Pitta and Kapha dosha and helps with Vata disorders. Additionally, Neem leaf purifies the blood, battles free radical damage, flushes out toxins, helps with insect bites, and helps with ulcers.
Weight Management

Axiom Karela Jamun juice is extremely low in calories and is a great choice for those wanted to lose weight naturally. It contains low amounts of fat and carbohydrates. It helps you from taking in unnecessary calories.
Helps stimulates the pancreas to produce more insulin

Useful in Constipation.
Helps to Boost Immunity.
Helps to purify the blood.
Useful for all Skin problems.
Helps to fight infections.
Having more than 6+ Herbs like Karela, Jamun, Amla, Giloy, Neem, Sadabahar, etc. 
ABOUT THIS ITEM
Karela, also called bitter gourd, belongs to the family Melon. Its pointed body is dark green in colour and very bitter in taste, but very nutritious. Jamun, also known as black plum or Indian blackberry, also has many healing properties. Axiom Karela Jamun juice has more than 6+ herbs like Amla, Giloy, Neem, Sadabahar including Karela & Jamun. Which is a power pack for Diabetes patients that promotes insulin secretion in the body and improves the body's immunity to prevent infections.
HOW DO WE DO IT?
We select fresh, green, naturally matured, sun-kissed herbs, Every herb is carefully hand-picked at its peak making sure it's not bruised. We gently wash, crush, and press them with nothing added and taken away as we want them to be as nature offered. Then the pure juice is transferred to the automatic filling machines preventing the sunlight and air from affecting the nutritional quality of our juice. Hence you can enjoy the gift of nature in its original form.

STORAGE:
Store at room temperature (25-30°C). Protect from moisture and light. Keep the container tightly closed. Keep it out of the reach of children.
SHELF LIFE:
18 months from manufacturing.
Manufacture & Packed by:

 
Axiom Ayurveda Private Limited

Ward 15, Rampur Sarsehri Road Ambala Cantt,133001.
Expiry Date: 18 months from manufacturing



Share
View full details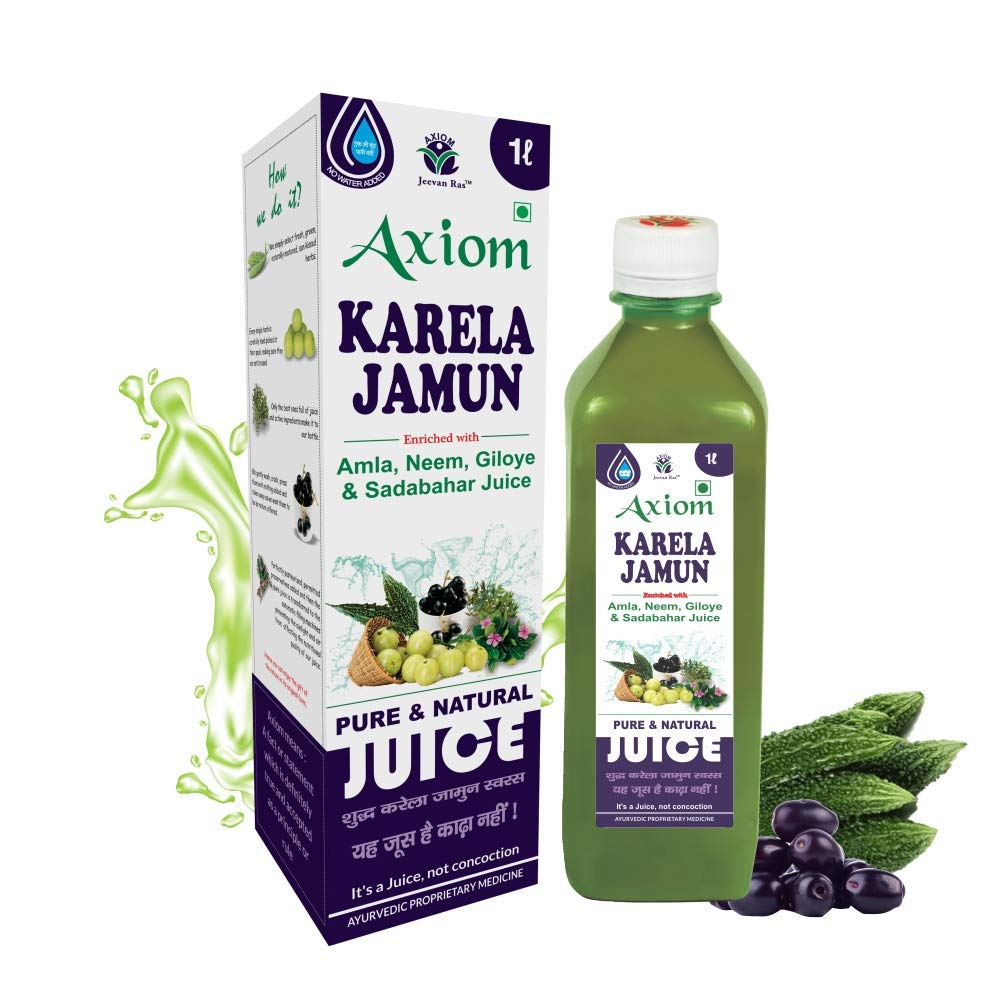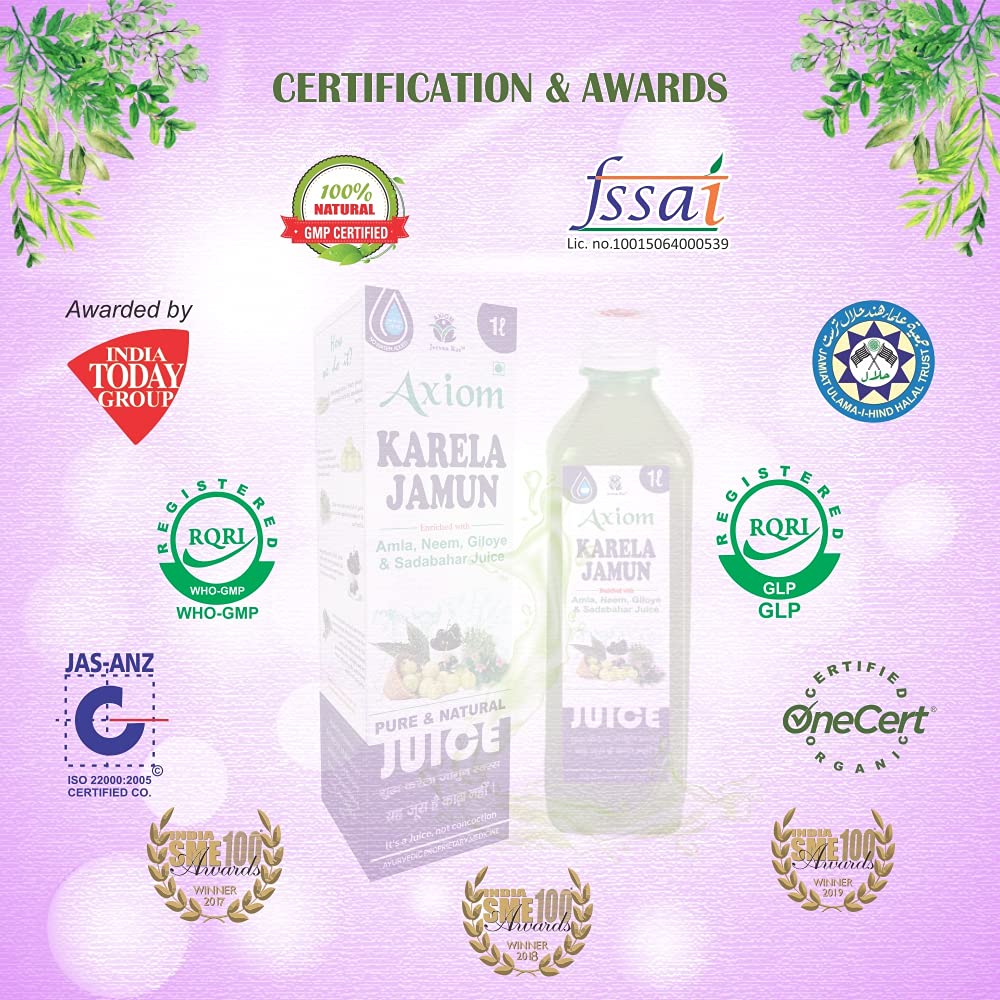 Product's Features
Key Ingredients

Karela juice: Karela is a natural diabetes controller and has been used by Ayurvedic doctors for centuries to help diabetes patients. Regular consumption of Axiom Karela Jamun juice leads to overall good health and proper functioning of the body.

Jamun juice: Jamun is a very nutritious fruit rich in antioxidants, vitamins (A and C), and minerals that help to have smooth and healthy skin. Jamun contains Gambulin and Gambosine, which can help reduce the rate at which the body converts food into starch.

Giloy Juice: Giloy is an anti-inflammatory and antipyretic (fever reducer) herb that helps strengthen the immune system and the body's defense against infections. Giloy juice also detoxifies the skin and improves your complexion. Gilloy is also used for liver disease, urinary tract infections, and heart problems.

Neem juice: From controlling diabetes to reducing ulcers, neem juice does all of this and more. Neem juice can be your choice for a healthier and brighter future. It has antibacterial, antifungal, and anti-inflammatory properties that help maintain healthy teeth and skin, remove toxins from the body, and prevent stomach ulcers.

Sadabahar juice: Sadabahar leaves, flowers, and roots are widely used in Ayurveda for their health-enhancing properties. Sadabahar, also known as the ever-blooming blossom. It has a wide range of health benefits and is used to treat many health abnormalities including diabetes, sore throat, congested lungs, skin infections, eye irritation and even to reduce the risk of cancer.

How To Use

For long-lasting health benefits, mix 30ml of juice with 30ml of water and consume twice daily. If you take it in the morning, take it on an empty stomach. For the best possible results, take it regularly for 4-8 weeks.
Organisation & Certification

Axiom Ayurveda is serving towards humanity from more than 2
decades, Axiom Ayurveda Swaras are 100% Natural WHO GMP, GLP certified.
FAQ

Q1. Benefits of Karela Jamun Juice?
Ans: Karla Jamun juice regulates blood sugar, increases your energy levels, lowers bad cholesterol levels, it also purifies the blood, and promotes better vision, youthful skin, and strong hair. Helps in detoxifying the body and maintain healthy liver function.


Q2. Will Karela Jamun Juice improve the skin?
Ans: Yes, Karela Jamun juice purifies the blood, prevents acne and promotes healthy skin.


Q3. Can Karela Jamun Juice reduce diabetes?
Ans: Yes, Karela Jamun juice is helpful for diabetics. It contains jamun, Giloy, Sadabhar, Neem juice which improves the absorption of sugar from your blood into cells and tissues. It protects and nourishes the pancreas, the organ responsible for the release of insulin.


Q4. Can we consume Karela Jamun Juice daily?
Ans. Yes, Karela Jamun juice is generally safe to consume daily. Consume the formulation in the prescribed amount as suggested by the ayurvedic practitioner or doctor. As prescribed on the bottle dilute the juice in water before drinking.
Axiom Jeevan Ras Karela Jamun Juice