Regulate Diabetes | Improve Immunity
Regular price
Rs. 250.00
Sale price
Rs. 225.00
Unit price
per
Sale
Sold out
AXIOM GILOYE STEM JUICE BENEFITS:
Useful for Better Digestion

Regular consumption of Giloy juice helps to improve digestion and helps to reduce digestive-related problems.
Helps in Immunity Booster

This herb activated the immune system of our body. Including Giloy juice in your diet, twice a day can help to improve your immunity. It is full of antioxidants and helps to release toxins from the body.
Helps to Maintain Sugar

In Ayurveda, Giloy is known as a 'Madhunashini' which means 'destroyer of sugar'. It helps to enhance the production of insulin which ultimately helps to maintain sugar levels.
Useful for Healthy Liver

Giloy helps to remove toxins from the body, purifies the blood, and fights bacteria.
Helps in Illness

In Ayurveda, two factors cause Illness – Ama (toxic remains in the body due to improper digestion) and the second one is due to foreign particles. Giloy acts as an anti-inflammatory, which helps to boost your immunity to fight against Illness and also helps in early recovery. Giloy has a Javarghana property to help to reduce Illness.
Useful for Healthy Eyes

Giloy is known to have antioxidants such as lutein which is great for your eyes. These antioxidants help in eye health.
Useful for Healthy Skin

Giloy is considered a natural remedy to purify the blood, fight germs and bacteria and help regulate flawless skin. Giloy is also attributed to its anti-aging properties. It can help in combating pimples, dark spots, and fine lines and improve your skin.
Helps In Stress

Giloy has properties of helping in reducing mental stress and anxiety. It calms down your body. Giloy also has the power to help in enhancing memory.
Useful in Dengue fever.

Helpful for Coronavirus infection.
Helps to maintain healthy eyes.

Useful in all kinds of infections.
 ABOUT THIS ITEM
In Ayurveda, Giloy is considered one of the best medicines for treating various fevers and other diseases. Also known as Amrita or Guduchi in Hindi. Giloy is an herb that helps improve digestion and boost immunity. Giloy stem is very effective against various diseases such as diabetes, cancer, nervous problems, fever, etc. due to its high nutrients and alkaloids, glycosides, steroids, and other compounds.
HOW DO WE DO IT?
Fresh Matured Giloy Stem

We simply select fresh green naturally matured, sun-kissed herbs.
Carefully Picked

Every herb is carefully hand-picked at its peak, making sure they are not bruised. Then we gently wash and process them to make this juice.
Juice of Giloye Stem

Perfectly pasteurized, permitted preservatives are added and then the pure juice is transferred to the automatic filling machines preventing the sunlight and air from affecting the nutritional quality of our juice.
Nature of the gift in a bottle

You can enjoy the gift of nature in its original form.
STORAGE:
Store at room temperature (25-30°C). Protect from moisture and light. Keep the container tightly closed. Keep it out of the reach of children.
SHELF LIFE:
18 months from manufacturing.
Manufacture & Packed by:

 
Axiom Ayurveda Private Limited

Ward 15, Rampur Sarsehri Road Ambala Cantt,133001.
Expiry Date: 18 months from manufacturing
Share
View full details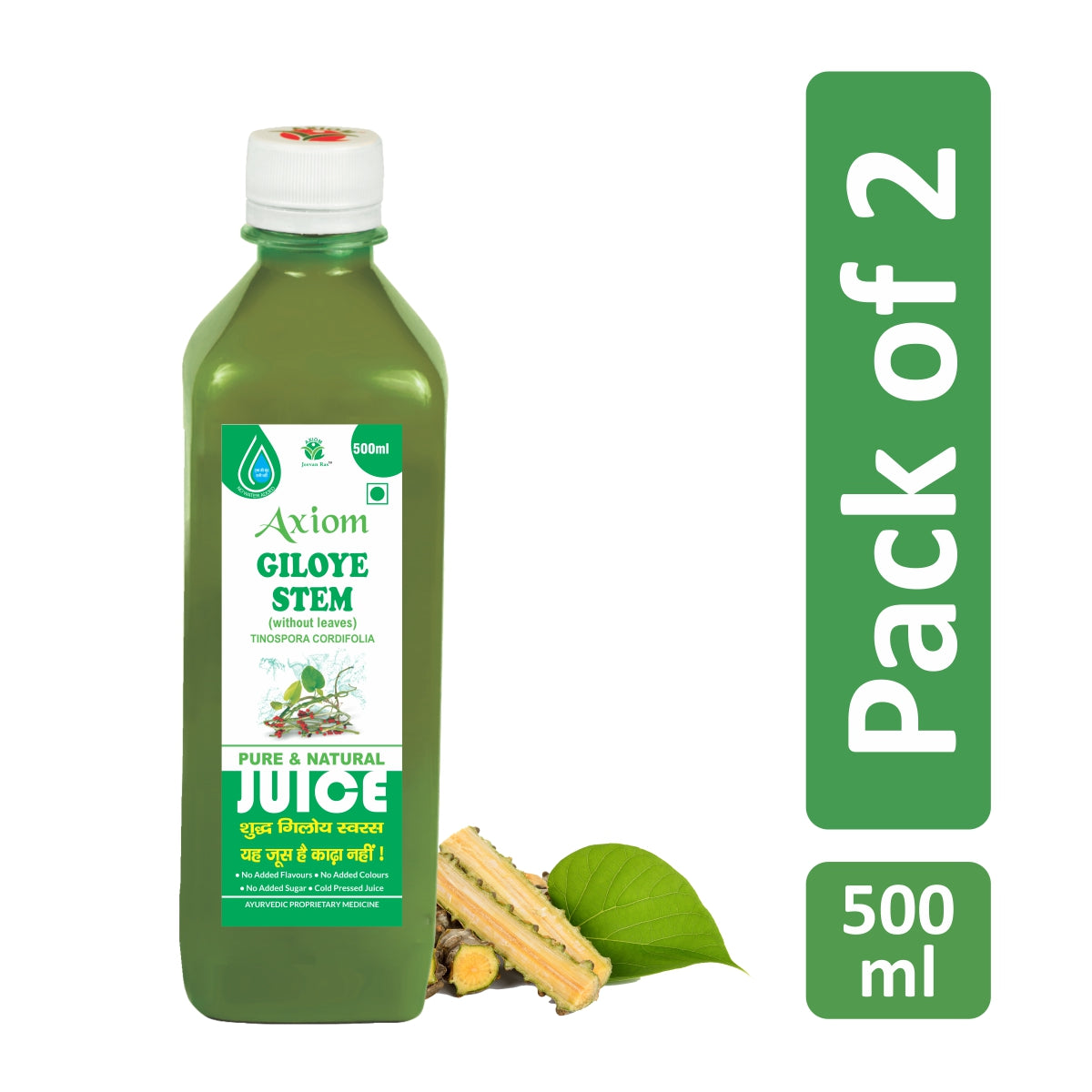 Product's Features
Key Ingredients

We have made Giloye stem juice with fresh stem to make it a power pack juice. It is 100% natural extract juice. Giloy is grown organically to incorporate its medicinal benefits. We cut only the hard, matured stems because they have maximum nutrition. A sign of maturity is if the stem has other stems coming out of it. Regular consumption of the juice has a calming effect on your body and keeps everyday fatigue under check.
How To Use

For long-lasting health benefits, mix 30ml of juice with 30ml of water and consume twice daily. If you take it in the morning, take it on an empty stomach. For the best possible results, take it regularly for 4-8 weeks.
Organisation & Certification

Axiom Ayurveda is serving towards humanity from more than 2
decades, Axiom Ayurveda Swaras are 100% Natural WHO GMP, GLP certified.
FAQ

Q1. Can Giloy juice be taken daily?
Ans: Yes, Axiom Giloy juice can be consumed on a daily basis for maintaining a healthy body. More beneficial if you take it on empty stomach.


Q2. Is Giloy juice good for heart?
Ans: Gilroy has antioxidant properties and is said to be good for heart health. Giloy has antioxidant and anti-inflammatory properties that help maintain healthy lipid levels.


Q3. Can Giloy juice be beneficial in Dengue?
Ans: Giloy has anti-inflammatory and antipyretic properties. Taking Giloy regularly during dengue will help improve your immune system. It also helps to increase the number of platelets. Together they help manage dengue fever.


Q4. Does Giloy juice help in managing diabetes?
Ans: Giloy also acts as a hypoglycaemic agent that helps improve blood sugar levels. It also helps to enhance the production of insulin which ultimately controls the blood sugar levels. Due to its antioxidant and anti-inflammatory properties, it can also help treat diabetes-related complications such as ulcers, wounds, and kidney damage.


Q5. Does Giloy juice reduces stress and anxiety?
Ans: Giloy is an excellent drug for reducing mental stress and anxiety. The presence of apoptogenic properties in Giloy helps to calm the nerves and strengthen stress-reducing hormones. Giloy also has the power to improve memory and cognitive functions.
Giloye juice
Its like a fresh juice and the taste of this juice is great. Keep it up. Regards.