Regular price
Rs. 750.00
Sale price
Rs. 675.00
Unit price
per
Sale
Sold out
Manufacture & Packed by : Axiom Ayurveda Private Limited Ward 15, Rampur Sarsehri Road Ambala Cantt,133001.
MADE WITH DESHI COW GHEE, KASHMIRI KESARA & WILD NATURAL HONEY: Axiom Chyawanpras is made from desi cow ghee (approx. 7% A2 ghee ) which increases the potency level of chyawanprash. Polyphenolic compounds in several herbs and Wild Natural Honey in chyawanprash are found beneficial in various human degenerative diseases. Kashmiri saffron is considered to be of superior quality because of the higher concentration of crocin – a carotenoid pigment that gives saffron its medicinal value.

PLANT ORGINATED VANSHLOCHAN USED: In Axiom Chyawanprash, we used plant orginated Vanshlochan which is beneficial because of its strengthening action and adaptogenic properties. Vanshlochan has restorative effect on body tissues. According to ayurveda, it increases immunity, so it is a main ingredient of Chyawanprash used as immuno-modulator. It is a very effective medicine for cold and running nose. Artificially prepared Vanshlochan is now sold in Indian Market, used in ordinary chyawanprash.

MIXTURE OF RARE HERBS & PRAKSHEP DRAVYA: Preparation of Chyawanprash is 48 g of each of medicinal herbs, such as Bael, Agnimanth, Kashmarya, Shyonak, Paatla, Gokshur, Sarivan, Barikateri, Kantakaari, Kakdasingi, Draaksha, Haritaki, Guduchi, Amla, Bala, Bhumyamalaki, Vasa, Jivanti, Kachur, Pushkarmul, Musta, Mudagparni, Mashaparni, Shalparni, Pithawan, Pipali, Kaknasa, Varahi, Vidaarikand, Punarnava, Neelkamal, Aguru, Chandan, Shatavar, and Asgandh.

POWER OF RASAYANA: Boost Immunity of respiratory tract, Helps in Detoxification, Maintains heart health, Improve Complexion, Extremely rich in vitamins and minerals, Improve digestion and eases constipation, Helps in all kinds of weaknesses, Eliminating degenerative processes, Antioxidant, Adaptogenic, Immune-Builder, Improves Digestion and Metabolism.

Expiry Date : 18 months After manufacturing


IMMUNITY BOOSTER: Tulsi is rich in Vitamin C and zinc. It thus acts as a natural immunity booster and keeps infections at bay. It has immense anti-bacterial, anti-viral and anti-fungal properties which protect us from a variety of infections. Tulsi leaves extract increases the T helper cells and natural killer cells activity, boosting the immune system. Dal chini contains one of the most active components known as Cinnamaldehyde..

AYURVEDIC POWER HERB: Tulsi has anti-bacterial and anti-viral properties which help to fight infections, thus reducing fever. The fresh juice of Tulsi taken with black pepper powder cures periodic fevers. Tulsi leaves boiled with powdered cardamom(elaichi) in half a litre of water and mixed with sugar and milk, is also effective in reducing temperature.. The anti-inflammatory properties of Dalchini allow the body to fight infections effectively

KEY BENEFITS : Axiom Ayush Kwath Immunity Booster Kadha as it sound it helps in enhancing immunity, It also strengthens Respiratory System, Tulsi leaves in this helps for cough & Cold. It helps in fever & Body Ache. Kali Mirch is an effective natural remedy to cure cough and cold

CERTIFICATION AND DOSAGE: Axiom Ayush Kwath Immunity Booster Kadha Juice is a 100% Natural WHO GMP, GLP certified product which is absolutely safe for all age groups. For best results, consume 20-30ml twice a day with lukewarm water before meals or as directed by the physician.

MORE THAN 2 DECADES OF LEGACY: Our strongest network of herb growers sources only the purest herbs from indigenous locations in the country. We infuse the expertise of our decades of knowledge to provide you with the best possible results.
Share
View full details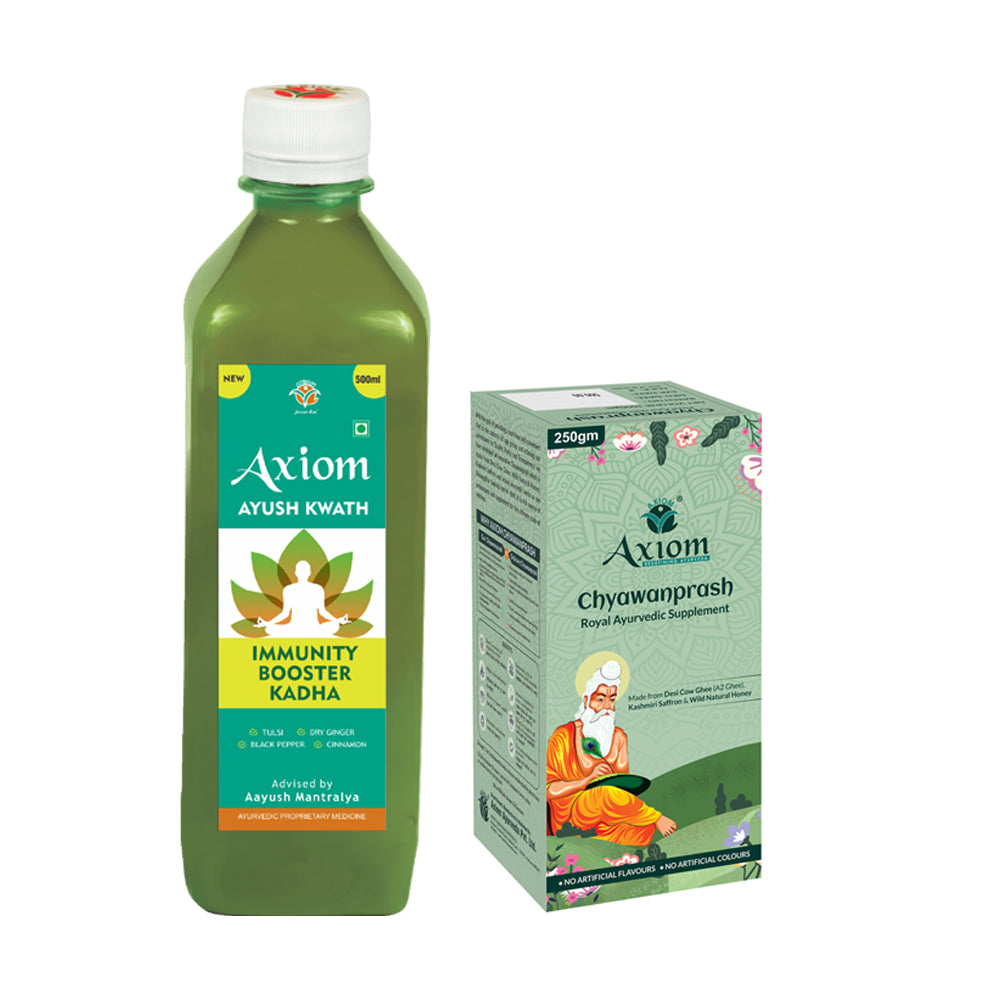 Product's Features
Organisation & Certification

Axiom Ayurveda is serving towards humanity from more than 2
decades, Axiom Ayurveda Swaras are 100% Natural WHO GMP, GLP certified.