Powerhouse of Antioxidants | Revitalize Cells & Tissues
Regular price
Rs. 380.00
Sale price
Rs. 342.00
Unit price
per
Sale
Sold out
AXIOM NONI JUICE BENEFITS:
Immunity booster

Noni Fruit has anti-bacterial, anti-inflammatory, antifungal, and anti-histamine properties that boost the immune defense mechanism of the body.
Improves your energy level

It boosts energy levels and improves the overall physical performance of the body.
Detoxify your body

Regular consumption of noni fruit juice may detoxify your body and give you a healthy lifestyle.
Skin wellness

Noni juice is a powerhouse of antioxidants. It naturally replenishes and repairs your skin. So, forget about those dry, patchy skin and say hello to healthy hydrated skin.
Healthy hairs

The vitamins and minerals present in noni fruit give you healthy of hair and scalp. Consuming noni juice facilitates healthy hair growth, particularly for those who experience who are having hair fall problems.
Helps in joint pain

Noni has the property which reduces inflammation and stress, therefore it helps with Joint pain and other pain in the body.
Helps with high cholesterol

Consuming Noni juice regularly may help in reducing your cholesterol level.
Helps in stress

Noni fruit juice helps you with stress too. Do yoga or meditate along with your daily dosage of noni juice. Juice.
ABOUT THIS ITEM
Noni fruit juice is a tropical beverage derived from a fruit called Morinda citrifolia. Noni juice has been used to combat general body weakness, boost energy levels and improve the overall physical performance of the body. Noni juice is a powerhouse of antioxidants and works as a great moisturiser, if applied on the skin. Noni juice helps manage stress and reduces the impact of stress on cognitive function. High levels of antioxidants like Beta-carotene, Vitamin C and Iridoids help fight free radicals, triggering better immune responses. Abundant in minerals, vitamins and phytochemicals, Noni qualifies for a superfood making it essential for healthy living. Noni is known to help revitalize cells & tissues, improves body's self-healing mechanism and quality of the blood. The juice of noni fruit has an impressive range of vitamins and minerals.
Fresh Matured Noni Fruit
Noni juice is sourced from the fruit of the noni tree (Morinda citrifolia) found in Tahiti, Hawaii, Southeast Asia, Australia, and India. Although noni juice has been used for centuries in traditional medicine, Also known as the Indian mulberry.
Nutritional facts per 100ml
Energy - 24.92 kcal

carbohydrates - 6.23gm

Dietary fiber - 1.14gm
Sugar - 0.0 gm
Total Fat - 0.0gm
Protein - 0.0gm
HOW DO WE DO IT?
Fresh Green Fruit

We simply select fresh green naturally matured, sun kissed herb.
Carefully Picked

Every herb is carefully hand picked at their peak,making sure they are not bruised.Then we gently wash and process them to make this juice.
Juice of Noni Fruit

Perfectly pasteurized, permitted preservatives added and then the pure juice is transferred to the automatic filling machines preventing the sun light and air from affecting the nutritional quality of our juice.
Nature gift in Bottle

Only the best one full of juices and active ingredients make it to our bottle. Hence you can enjoy the gift of the nature in its original form.
STORAGE:
Store at room temperature (25-30°C). Protect from moisture and light. Keep the container tightly closed. Keep it out of the reach of children.
SHELF LIFE:
18 months from manufacturing.
Manufacture & Packed by:

 
Axiom Ayurveda Private Limited

Ward 15, Rampur Sarsehri Road Ambala Cantt,133001.
Expiry Date: 18 months from manufacturing
Share
View full details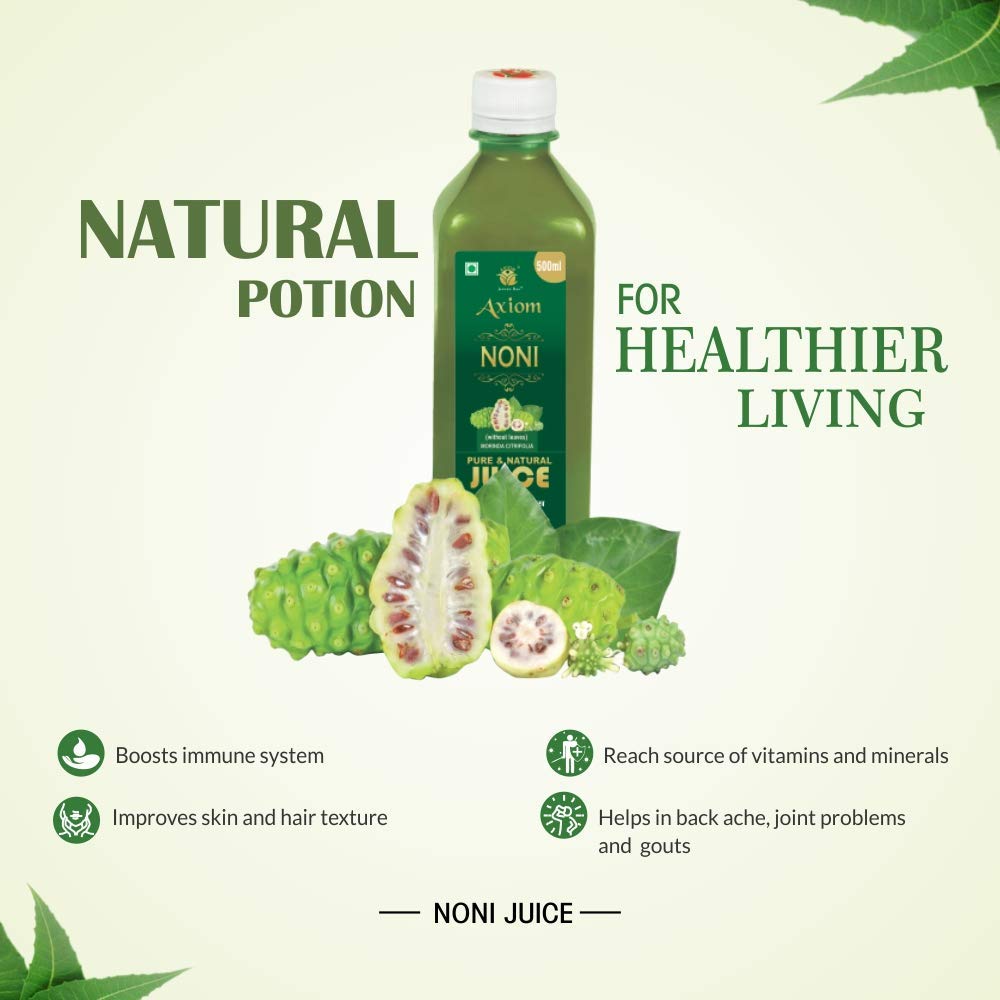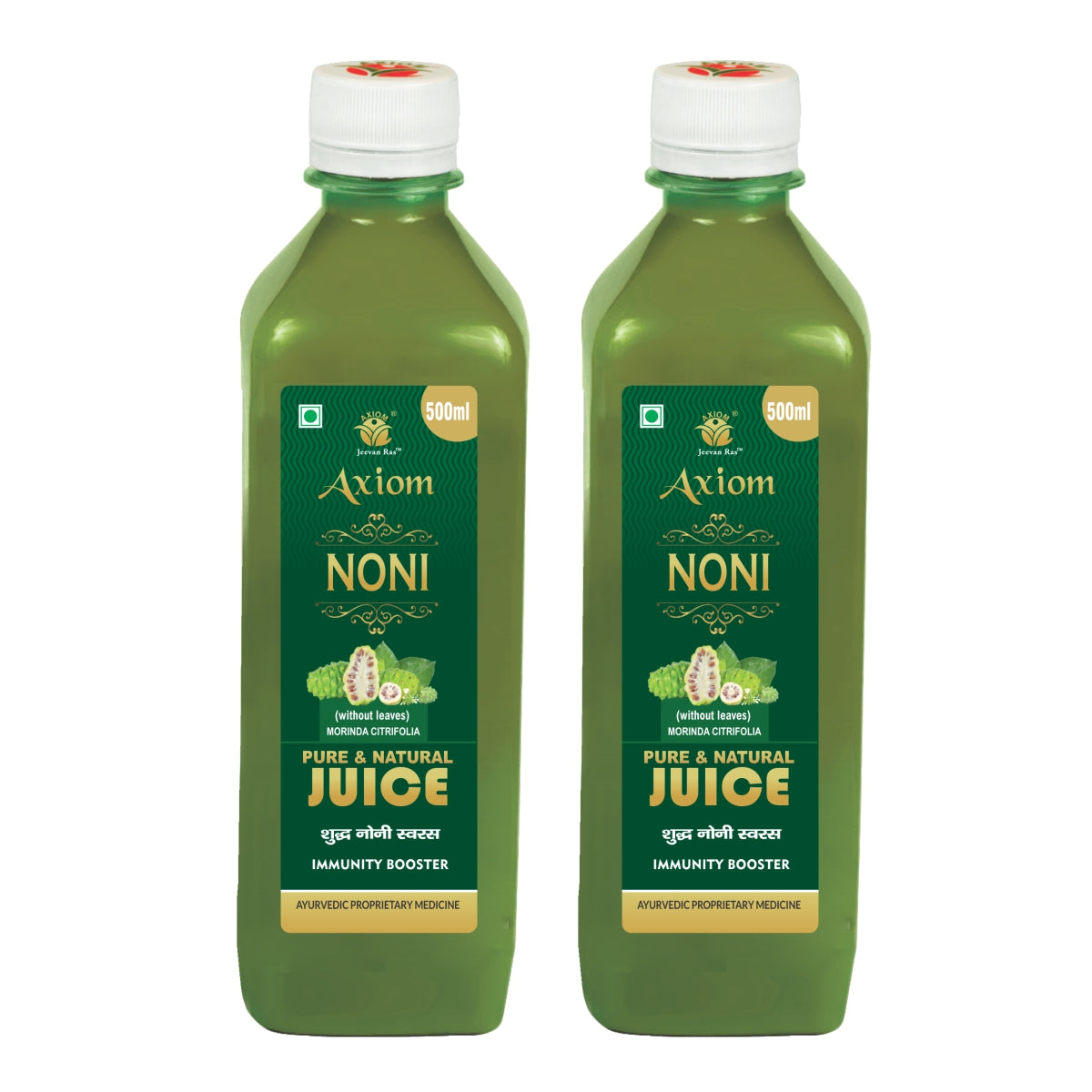 Product's Features
Key Ingredients

Our strongest network of herb grower's sources only the purest herbs from indigenous locations in the country. Nature's Best Noni fruit, picked, crushed and served as Juice. It has more than 160 types of nutrients, Antioxidants and amino Acids. Noni juice has been used to combat general body weakness, boost energy levels and improve the overall physical performance of the body. It is 99.8% natural extract.
How To Use

Shake well before use. For long lasting health benefits, mix 30ml of juice with 30ml of water and consume twice daily. If you take it in the morning, take it on an empty stomach. For best possible results, take it regularly for 4-8 weeks.
Organisation & Certification

Axiom Ayurveda is serving towards humanity from more than 2
decades, Axiom Ayurveda Swaras are 100% Natural WHO GMP, GLP certified.
FAQ

Q1. Does Noni juice help in Joint pain relief?
Ans: Noni juice might have some analgesic and anti-inflammatory properties to help with pain. According to studies, noni juice may have advantages for the joints in terms of reducing pain and enhancing range of motion.


Q2. Can Noni juice reduce cellular damage from tobacco smoke?
Ans: Noni juice decreased oxidative damage in heavy smokers, according to a study published on Food Science and Nutrition Trusted Source. Numerous harmful substances and carcinogens found in tobacco smoke damage DNA and induce oxidative stress in cells.


Q3. Does Noni juice support Heart health?
Ans: Blood fats, cholesterol, and inflammation may all be risk factors for heart disease, but noni juice may support the heart by lowering these levels. According to studies published in The Scientific World Journal Trusted Source, noni juice decreased risk factors like total and LDL cholesterol levels in heavy smokers.


Q4. Can Noni juice Boost body Immune system?
Ans: High concentrations of vitamin C are found in noni juice, along with other phytochemicals and antioxidants that may help the immune system. Antioxidant activity in the body is increased by routine noni consumption. Antioxidants play a role in immune system modulation and enhancement of immune function.


Q5. Does Noni juice help in weight loss?
Ans: Noni juice may also support weight loss. Antioxidant properties of noni juice may help with weight loss. Free radicals are created in the body when a person has enough fat. The body's metabolism is aided by the antioxidants in noni juice.


Q6. Is Noni juice good for a detox?
Ans: Since the beginning of time, people have used the noni fruit for its healing properties, which include immune system support and detoxification support.
Smell and taste both good
Smell and taste both good